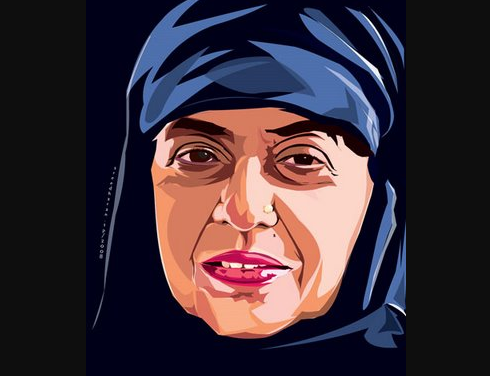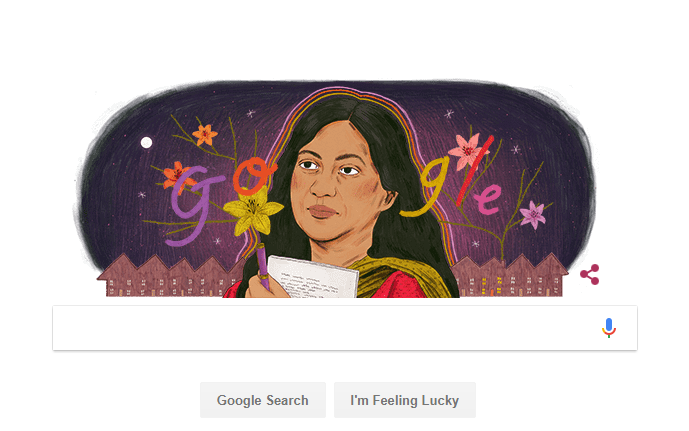 Kamala Das, also known as Kamala Surayya, was honoured by Google on Thursday through a Doodle for her works both as a Malayalam and English writer.
Controversial yet commended
Kamala, who also went by the pseudonyms Madhavikutty and Ami, rose to fame in the 1960s for her open and bold addressing of female sexuality and other women issues.
The Doodle "celebrates the work she left behind, which provides a window into the world of an engrossing woman," Google said in a blog post.
Inspired by her mother, who was also a poet, her husband Madhava Das, and her uncle Nalapat Narayana Menon, Kamala started writing from a very young age.
However, owing to the fact that she was a woman whose works revolved around women's issues and hitherto undiscussed matters like sexuality, she often found herself amidst controversies.
Her own relatives did not want her autobiography "My Story" or its Malayalam version "Ente Katha" to be published as it talked about her childhood, an unfulfilling and abusive marriage, her sexual yearnings, suicidal thoughts and extramarital affairs. It was finally published on February 1, 1976.
At the same time, her work was praised by many and continues to garner praise to this day.
"Perhaps the greatest 'work' of hers is the alter self whom she created, this mysterious and puzzling, ambiguous and sphinx-like "persona" that is Kamala Das, who emerges from her writings taking Protean forms – to fascinate and charm, to tease and torment, to hold and enthral, and to reveal her world anew with each new reading," Devika Nair wrote in The Hindu Friday Review.
Her passion for prose and poetry earned her the Sahitya Academy Award in 1984.
10 years before she passed away in 2009, Kamala converted to Islam and changed her surname to Kamala Surayya. Kamala had said that the two blind Muslim children, Irshad Ahmed and Imtiaz Ahmed, whom she had adopted had brought her close to Islam.
From books to a movie
Though reports claim Kamala later dubbed her autobiography a "work of fiction", the Scroll said two filmmakers are making biopics on the legendary author.
Veteran Malayalam director Kamal, who has sought permission from Kamala's family to make a film called Aami, has said his movie will be family-oriented and showcase the author's unconventional works and life choices.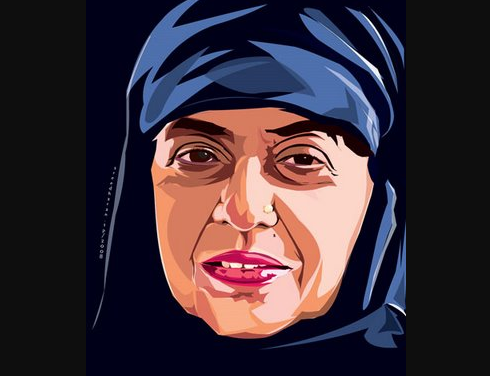 "The permission was given by the Estate of Kamala Das, a legal entity formed by the legal heirs of the late Kamala Das," Jaisurya Das, one of the writer's three sons, was quoted as saying by the Scroll.
"There will be a lot of fiction. That is how movies work. But it is a genuine attempt to show all the controversies she faced," Jaisurya added.
Kamala Das began love jihad in Kerala
Meanwhile, a lawyer named KP Ramachandran has filed a petition in the Kerala High Court and has requested that the direction of the film be stopped as he feels that Kamala's conversion to a Muslim was a forced on her. He has termed the author's conversion as the beginning of Love Jihad in Kerala.
Ramachandran said that he "wishes to see that Hinduism is maintained and sustained in India with its full vigour and comprehensiveness" and that he gets deeply pained whenever he comes across the illegal, unlawful and forceful conversion of Hindus to Islam by radical forces."