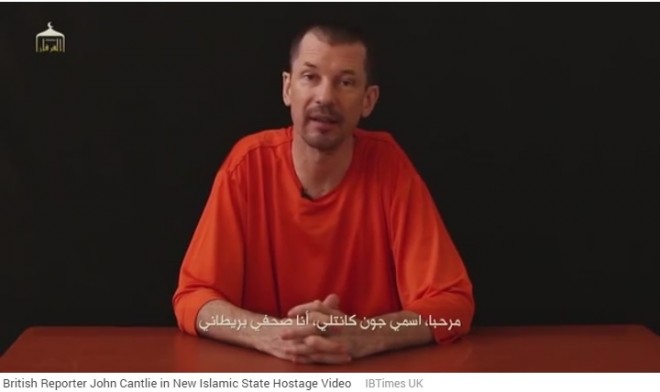 The Islamic State seems to have made a spokesperson out of British journalist John Cantlie, albeit with force, and has released a new video, in which he is seen attacking Western media and governments, while promising to show the 'truth' behind the terror outfit.
The 43-year-old British journalist has worked with newspapers such as The Sun, The Sunday Times and The Sunday Telegraph, and was reporting in Syria when he was captured in 2012, along with a Dutch national.
Interestingly, Cantlie, who, according to his LinkedIn profile, has been a journalist and photographer for 20 years, specialising in working in conflict-zones, including Afghanistan, Somalia, Libya and Syria, had escaped from his captors but yet chose to return just a few months later.
Despite facing the most hostile conditions in captivity in Syria, he had said after his return home, 'I'm itching to get back out there. This is what I do," as reported by Daily Mail. The paper also reported how Cantlie's adventure streak found him in the company of the royal brothers, Prince Harry and Prince William, on their motorcycle escapades.
Cantlie had attempted a daring escape from the Sunni militants and was even shot during the break-out from a tent where the two were kept. A few days later, however, Cantlie and the Dutchman were rescued by Free Syrian Army rebels, and on his return, the British journalist had exposed how many of his captivators and abusers were Britons.
He had revealed that as many as 15 out of 30 of the Islamic State jihadists holding them were British, further lending credence to concerns of the British government of increasing radicalisation of its nationals to join the jihadists' cause.
"The British citizens were seemingly of mixed ethnicities and spoke of a wider war after Syria," Cantlie had told The Sunday Times.
He had also accused his British captors of being the most 'vindictive' and constantly threatening to behead the captives.
"They constantly threatened us with death, always cocking their weapons, getting us to stand as though we were being led out for execution, sharpening knives for a jihadist beheading and generally playing with our minds," Cantlie was quoted saying by The Guardian in 2012.
"When you're constantly handcuffed and blindfolded in a stinking tent in 35 degrees and covered in flies, the imagination can run riot."
Recounting his foiled escape, Cantlie had said, "My feet, cut pretty badly when we attempted to escape over granite boulders and shrubs, are healing quickly, while the left hand is still problematic. We were both shot during our dash for freedom (it was doomed from the outset but we both wanted to give it a go) Jeroen in the hip and me in the arm. My ulna nerve was damaged and I've lost feeling in about 30% of my left hand."
Cantlie had also revealed that the doctor who treated him in a Syrian camp when he was freed was a Briton.
The doctor was later identified as Shajul Islam, a 27-year-old resident of East London, and he was arrested while flying into Heathrow Airport with his wife and baby in October 2012. While he was accused of being a jihadist with international connections, his case was dropped in November 2013 as both witnesses were unable to call.
However, after his release, Cantlie returned to Syria a few months later and was kidnapped again in November 2012.
He has been held hostage ever since, and his fate now lies in the hands of the Islamic State.
In the new video, Cantlie has accused the British government of abandoning its citizens even as other European countries were negotiating with the militant group to rescue their citizens.