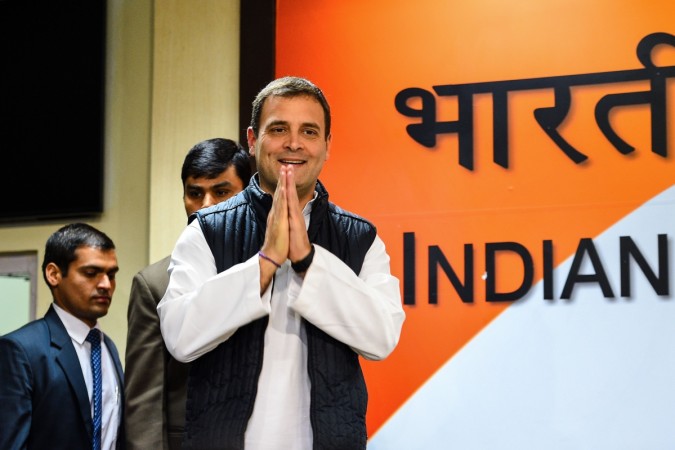 Congress president Rahul Gandhi has written a congratulatory letter to Ifra Sheraz, who recently secured 99% in the class 10 Jammu and Kashmir Board of School Education exams. Ifra Sheraz was among those students from the restive South Kashmir region who braved the violence, shutdowns and other risks to race ahead in the board exams.
Rahul Gandhi, while acknowledging Ifra's achievement wrote,
" Dear Ifra Sheraz Ji,
I congratulate you on your brilliant performance in the Class X Board examinations. This achievement stands testament to your hard work and determination.
Despite the challenges due to frequent closure of schools, your determination trumped all the roadblocks. I have tremendous hope in the youth of Jammu and Kashmir who have accomplished remarkable feats even in the face of adversity.I hope your accomplishment inspires others to strive for their goals. I would also like to congratulate your family for their support and faith in you.
I wish you success in your future endeavours and hope you continue to reach greater heights.
Sincerely,
Rahul Gandhi."
The year 2018 which has been one of the bloodiest years in the valley with the highest number of militant and civilian killings also saw frequent shutdowns, clashes between locals and security forces. Ironically, the districts of Pulwama and Shopian which were the most militancy infested regions also showed remarkable performances in the board exams compared to others.
While the average pass percentage in the exams was 75.44 per cent, the students from volatile Pulwama and Shopian fared even better as the pass percentages there stood at 84.5 and 83 per cent, respecively.
Among those who qualified the board exams included Numan Ashraf Bhat, who was killed near an encounter site in Kulgam in November 2018. The list of succesful candidates also included Tamheed Bukhari, the son of journalist Shujaat Bukhari who was killed last year outside his office in Srinagar.
Congress President Shri @RahulGandhi ji congratulating Ifra Sheraz on her achievement.
Ifra Sheraz, a resident of #Shopian has secured 99% in her class X Jammu and Kashmir Board examinations. This is one of the worst affected areas in the recent times. pic.twitter.com/Tbb1Oftb9I

— Ghulam Ahmad Mir (@GAMIR_INC) January 8, 2019