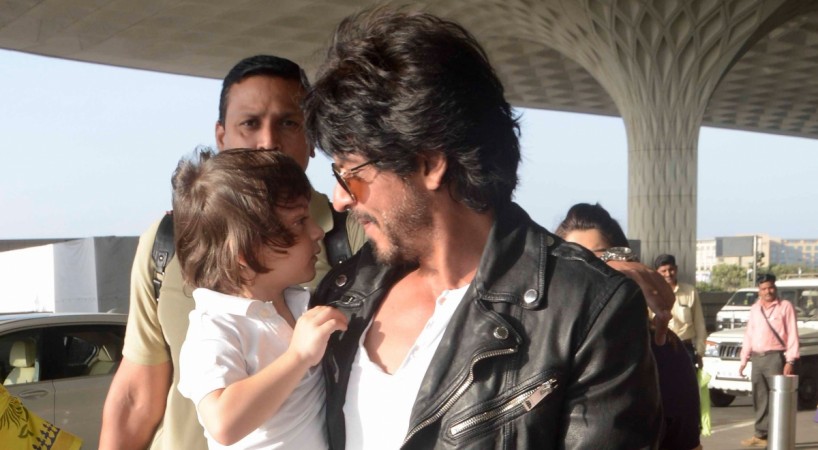 Shah Rukh Khan posted a number of pictures of his son AbRam on social media earlier, but now-a-days the actor rarely shares his youngest champ's photos. SRK recently revealed that it is his family that has forbidden him from posting their photos on social networking sites.
The "Fan" actor shared AbRam's picture, in which the little guy is covered with balls, with a caption: "I am forbidden by family to post their pics on the net but sometimes all u need is some ba--s to tread the forbidden..." The photo is from Karan Johar's birthday bash, which was held in London.
SRK attended his friend's party with his wife Gauri and kids. The Khan family was in London for Aryan's graduation day ceremony and extended their stay to attend Karan's birthday bash. It looks like the filmmaker had arranged a play section for AbRam, who was the youngest member at the party.
Apart from SRK and his family, Ranbir Kapoor, Sidharth Malhotra, Saif Ali Khan, Kareena Kapoor and Shweta Bachchan Nanda with daughter Navya also attended the party. Navya and Aryan – both of them have graduated from the same school recently.
While Shah Rukh shared AbRam's photo with his face covered, Karan took the liberty to post the champ's adorable picture without any cover. AbRam is one of Bollywood's most loved star kids and is quite popular on social media – thanks to SRK, who has posted several photos of his son's day-to-day activities.
Earlier, SRK had confessed that AbRam is his favourite and the "Raees" actor thinks he is AbRam's favourite too. Fans have seen the kid with his father at many events, including IPL matches and movie sets. AbRam has even starred in a song of SRK's "Happy New Year."