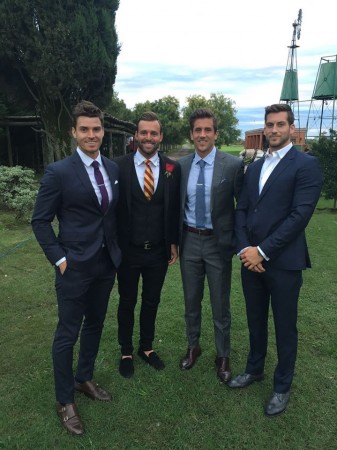 Besides announcing the winner of "The Bachelorette" Season 12, Monday's episode of the dating reality show will also see host Chris Harrison announcing who the next bachelor is. On the list are Chase McNary, Robby Hayes and Luke Pell, and according to reports, Pell is the frontrunner.
Hayes will apparently be jilted by JoJo Fletcher in the finale, which will be aired on Monday, but he will not make it as the next bachelor as he does not have a clean image. Rumours swirling around indicate that Hayes left his most recent girlfriend to be on "The Bachelorette," and this controversy has apparently spoiled his chances of being the next Bachelor.
"Robby's got too much negativity surrounding him to be the [next] bachelor," Reality Steve, a popular blogger who follows the show, told Guide Live.
The other contestant on the list is Chase, and he revealed shortly after the Men Tell All special that he was in talks to become the next Bachelor. But he hasn't made up his mind yet, Chase told Entertainment Tonight.
"The discussions are there, but I don't know — there's a lot of weight there," said Chase. "There [are] a lot of expectations and I'm not scared of it...but I definitely want to make the smart decision and the right decision before I totally accept that position."
However, the favourite to be "The Bachelor" 2017 is Luke Pell, the war veteran from Texas whose elimination was one of the most dramatic ones on "The Bachelorette" 2016.
During a Twitter chat with fans, Steve was asked by a follower if he had any confirmation on the next "Bachelor," and the blogger said: "Confirmation? Technically no, since it's not 'official' til ABC announces it. But everything I hear points to Luke."
When asked if he would like to be the next bachelor, Luke too answered in the affirmative. "I would be excited about it," he told The Hollywood Reporter. "I've seen firsthand that it worked, going through this whole process with JoJo and I. I was in love with her."
He continued: "And it happened so fast, but it was real at the same time. It was real for us and it was real for me. So, I would be open to it again because I know it works. It's proven."
"The Bachelor" is slated to be aired in early 2017 on ABC.