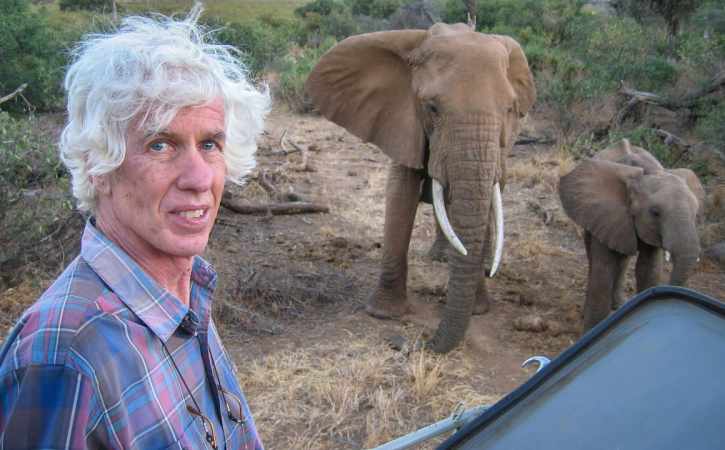 World's top ivory trade investigator Esmond Bradley Martin, who had put in immense dedication throughout his life to end poaching and stop illegal trading of ivory and rhino horn, was killed in his house in Nairobi, Kenya on February 4.
Martin's wife Chryssee Martin, who had gone for a walk, found the body with a stab wound on his neck when she reached home at around 4 pm. She immediately informed the local police about Esmond Bradley's death.
The 76-year-old conservationist had recently returned from Burma for research work and was working on his latest findings of the illegal ivory and rhino horn trade in Asia. Martin was expected to publish a new expo soon on Asia's influence on the smuggling market. The investigation of the murder is still going on and no suspect has been named or arrested yet. Kenyan Police predicts the case to be a botched robbery in which Martin became the victim.
"We have already questioned a gardener and a cook who are employed at the home," police said, according to Nairobi media outlets.
Along the way, the former UN special envoy had made many enemies after being involved in the investigation of leading ivory rackets. He had also received threats and death warnings. The Kenyan based investigator was a risk taker and had also worked as an undercover agent in precarious situations, like posing as a buyer to inspect the black market dealing with ivory and rhino horn.
Martin had been traveling with wife Chryssee and colleagues Lucy Vigne and Dan Stiles as a part of a mission to explore ivory and rhino markets, the traffickers, manufacturers and its modern day uses. He passionately worked to put an end to the trafficking and had focused on the supply chain, describing, quantifying and analyzing Asian markets in China, Hong Kong, Laos, Vietnam and more.
Their research was funded by Save the Elephants organization, who revealed that the ivory market in Laos is growing rapidly. Martin had also had a major contribution in helping persuade China to shut down its legal rhino horn trade in 1993 and ivory trade in 2017.
Some of the organizations and colleagues, with whom the top investigator worked, have expressed their condolences on social media.
Check out tweets:
We are deeply saddened by the death of wildlife-trade researcher Esmond Bradley Martin who died yesterday in Nairobi. A long term ally for STE, passionate champion of wildlife and meticulous researcher, his loss will be deeply felt by all who knew him. https://t.co/8WUaOpdqmw pic.twitter.com/xBCNNDjUWQ

— Save the Elephants (@ste_kenya) February 5, 2018
We are deeply saddened by the death of wildlife-trade researcher Esmond Bradley Martin who died yesterday in Nairobi. A long term ally for STE, passionate champion of wildlife and meticulous researcher, his loss will be deeply felt by all who knew him. https://t.co/RUksdUqfyx pic.twitter.com/PZp9hRY29H

— Elephant Crisis Fund (@ElephantCrisis) February 5, 2018
Awful news. Esmond was a colleague, friend, and mentor for conservationists worldwide. We'll always remember his kindness and passion for his work https://t.co/WbjLvmA4mA

— WWF News (@WWFnews) February 5, 2018
2/3 Esmond was at the forefront of exposing the scale of ivory markets in USA, Congo, Nigeria, Angola, China, Hong Kong, Vietnam, Laos and recently Myanmar. He always collaborated with Save the Elephants and worked with many of us generously sharing his findings & views.

— Dr. Paula Kahumbu (@paulakahumbu) February 5, 2018