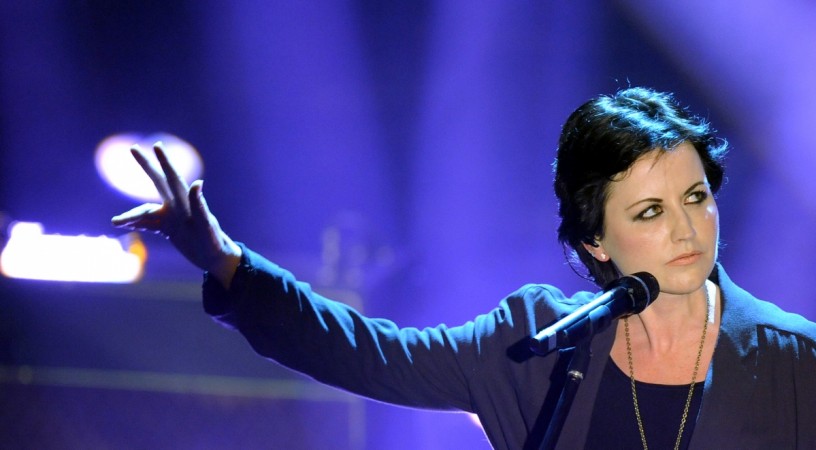 Music lovers across the world are left in a state of shock as the sudden death of Cranberries' lead singer Dolores O'Riordan hit headlines. The 46-year-old suddenly died while she was on tour for a recording session in London.
The news of her untimely death was confirmed by the band's publicist. The London police found a woman in her 40s dead on Monday at a hotel on Park Lane in central London, ABC reported. The cause of death is being treated as "unexplained."
Though the cause of death is still not known, friends of the singer told TMZ that the singer was "dreadfully depressed" in the recent weeks and was said to be suffering from a lot of back pain before her shocking death.
Dolores separated from her husband Don Burton in 2014. She is survived by three children.
Who is Dolores O'Riordan?
Born on September 6, 1971, the lead singer of the Irish band became a household name among rock music lovers in the early 1990s. The singer, along with her band formed in 1989, brought the house down with songs like Zombie, Dreams and Linger; she wrote the lyrics of the three songs.
Linger reportedly was on the Billboard's Hot 100 chart for 24 weeks. The band's most popular song, Zombie was a response to an Irish Republican Army terrorist bombing in 1993, New York Times reports.
Dolores not only performed with her band, that sold more than 40 million records, she also released two solo albums during the band's hiatus. Dolores and the band reformed in 2009 and had plans of a tour in 2016. However, due to the singer's back pain, Cranberries cancelled the tour.
TMZ reports that the Irish band lead singer tried to take her life in 2013 by OD'ing. She was suffering from depression back then and eventually had a mental breakdown. Her diagnoses revealed she had a bipolar disorder.
In an interview back in 2012, she told the Irish news outlet, "anyone who gets famous so quickly and so young, you're bound to be a bit of a casualty in some fashion. You go through life, and then you realise you only live once, and that there are some things you might have lost or given away when you were young, so you go back to find them."
"[I] thought at that point that I would never go back to making music, that in my life I needed to find 100 percent sanity, and that I wanted to be a mother and a wife. I didn't want to be a famous person or to be in a band. I didn't want to have contracts in my life. In short, I needed to find elements of my life that I felt I had lost," she said.
Following the news of her death, several singers and bands expressed their dismay on social media platforms:
We are devastated on the passing of our friend Dolores. She was an extraordinary talent and we feel very privileged to have been part of her life from 1989 when we started the Cranberries. The world has lost a true artist today.
Noel, Mike and Fergal

— The Cranberries (@The_Cranberries) January 15, 2018
My first time hearing Dolores O'Riordan's voice was unforgettable. It threw into question what a voice could sound like in that context of Rock. I'd never heard somebody use their instrument in that way. Shocked and saddened to hear of her passing, thoughts are with her family.

— Hozier (@Hozier) January 15, 2018
I once met Delores O'Riordan when I was 15. She was kind and lovely, I got her autograph on my train ticket and it made my day. She had the most amazing voice and presence. So sorry to hear that she's passed away today x

— James Corden (@JKCorden) January 15, 2018
Rest In Peace Dolores, a true rockstar ??? #TheCranberries pic.twitter.com/nQ7d3n01km

— American Authors (@aauthorsmusic) January 15, 2018
The Cranberries' Zombie was the song of my high school days. Rest In Peace Dolores O'Riordan.

— Fortune Feimster (@fortunefunny) January 15, 2018
Devastated for fans and her family- Dolores O'Riorden had such an exquisite voice, so distinctive and defining of an era. She would have continued to be a rare musical treasure late into a long life #gonetoosoon https://t.co/2QH2cPgRf6

— Liz Phair (@PhizLair) January 15, 2018
Wow! Can't believe the Dolores O'Riordan news! The Cranberries were one of the best bands to come out of the 90s! Zombie! Linger! Spinning "No Need to Argue" in her honor! #RIP pic.twitter.com/xV7GYNA6Y8

— Eric West (@EricXWest) January 15, 2018