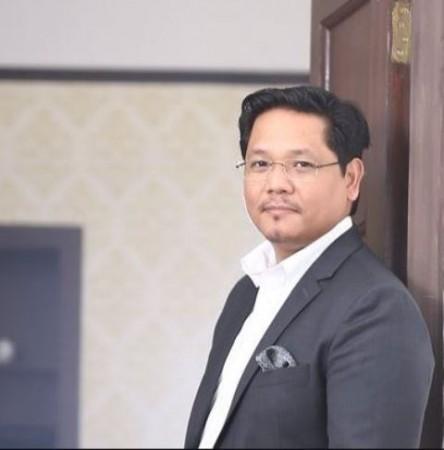 Conrad Kongkal Sangma, chief of the National People's Party (NPP), took oath as the chief minister of Meghalaya on Tuesday, March 6, in Shillong.
Conrad staked a claim to form the government in the hill state after forming an alliance with the Bharatiya Janata Party (BJP), the People's Democratic Front (PDF), the Hill State People's Democratic Party (HSPDP), and the United Democratic Party (UDP) and received an invite from the BJP for the same.
The only person said to in the race for the post was his sister Agatha Sangma.
While Conrad will be sworn in as the Meghalaya CM today, he will not have a deputy, reported NDTV.
Several dignitaries such as Union Home Minister Rajnath Singh and BJP President Amit Shah will also attend the swearing-in ceremony.
Who is Conrad Sangma?
Conrad is the son of Purno Agitok Sangma, a former Lok Sabha speaker and Meghalaya chief minister.
The 40-year-old was born in Tura, West Garo Hills, on January 27, 1978.
He was also a Member of Parliament from Tura.
Conrad has two siblings -- bother James Sangma and sister Agatha.
He is married to Mehtab Chandee, a doctor, and has two daughters.
He completed a course in business administration from the Wharton School of Business in Pennsylvania and also has an MBA degree from Imperial College London
He joined politics in the late 1990s as his late father's campaign manager.
Conrad has also been a state minister and has held portfolios such as finance, power and tourism.
He is also known to be the youngest finance minister of the hill state.
Conrad is also known for his service to the society and is the president of the PA Sangma Foundation.
The organisation works for development in education and environment and runs four colleges in rural Meghalaya.