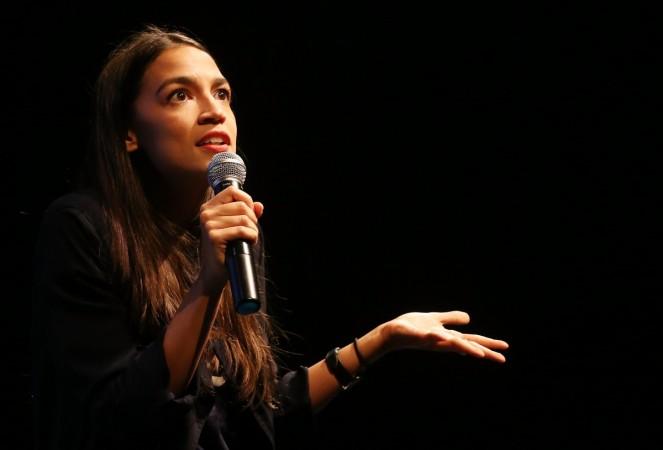 New York Democrat Alexandria Ocasio-Cortez has made history, becoming the youngest woman ever to be elected to the US Congress. The 29-year-old won the mid-term election with a huge margin of 75 percent of the vote, defeating Republican Anthony Pappas.
Ocasio-Cortez hit headlines earlier this year when she defeated New York Democratic Rep. Joe Crowley in the primary election.
Moments before the polls closed, Ocasio-Cortez tweeted, thanking all those who went out to vote.
Polls close in 1 minute.

I am so thankful for every single person who contributed, amplified, and worked to establish this movement.

Never forget the hard work it took to get us here. No matter what happens, this is what it takes.

?: @jose___a pic.twitter.com/b32yavKPF5

— Alexandria Ocasio-Cortez (@Ocasio2018) November 7, 2018
Who is Alexandria Ocasio-Cortez?
Alexandria Ocasio-Cortez is an American politician, educator, and political activist.
She was born on October 13, 1989, in the Bronx, New York City, to Sergio Ocasio and Blanca Ocasio-Cortez. Her mother is Puerto Rican.
Ocasio-Cortez attended Yorktown High School and later went to Boston University.
She has a bachelor's degree in economics and international relations. The International Astronomical Union has also named a small asteroid after her called the 23238 Ocasio-Cortez.
Until now, she had never held an elected office and also said that politics was never a part of her plan.
"Going into politics wasn't in the plan. But after 20 years of the same representation, we have to ask: who has New York been changing for?" she asks in a promotional video for her campaign.
Ocasio-Cortez is the first person since 2004 to challenge the Joe Crowley.
She was endorsed by several organisations such as MoveOn, Justice Democrats, Brand New Congress, Black Lives Matter, and Democracy for America.
She also garnered the support of gubernatorial candidate Cynthia Nixon.
Cortez has said that she will work towards lowering rent and increasing incomes. She also said that she help make healthcare accessible to more number of people.
Ocasio-Cortez is a supporter of the LGBT community and also spoke at a Black Lives Matter rally in 2017.