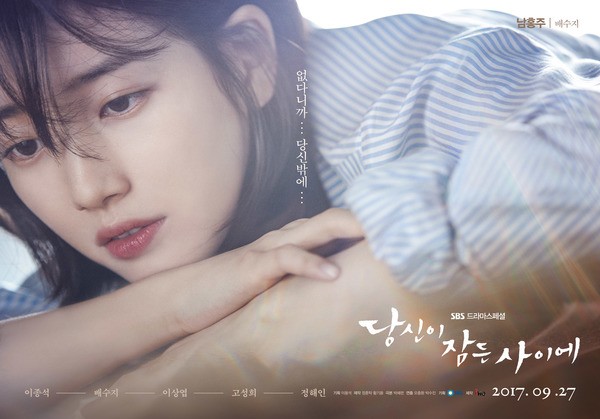 While You Were Sleeping, the SBS romantic thriller, will be back with episodes 25 and 26 next Wednesday, November 8, at 10 PM KST. These episodes will probably reveal some new details about the person who attacks news reporter Nam Hong Joo in her dreams.
Through the previous episodes, it was revealed that the news reporter took a break in her career because of a scary dream that featured her demise. In the dream, she saw herself lying on the ground wearing her blue uniform. While taking her last breath, a person was near her holding a green umbrella.
Since the green umbrella belongs to defence lawyer Lee Yoo Beom, the viewers were under the impression that he could have killed the news reporter for some unknown reasons. However, the umbrella is currently with Myung Dae Gu, a high school student. His father was wrongly accused by a prosecutor by fabricating evidence.
Also read Hospital Ship episodes 39, 40 (finale) recap: An unexpected breakup and emotional reunion
Towards the end of episode 24, Myung Dae Gu's father committed suicide and left a note requesting re-investigation of the case. It remains to be seen if the case will lead to a new rivalry.
The preview for episodes 25 and 26 of While You Were Sleeping shows Nam Hong Joo working with prosecutor Jung Jae Chan on a complicated case. Will it be the case of Myung Dae Gu's father? If so, will they succeed in proving his innocence?
The promo also shows detective Choi Dam Dong confronting Lee Yoo Beom after going through some crucial details related to the case. Could it be related to fabrication of evidence? Since the duo has worked together in the past, the detective knows a lot about the lawyer. The viewers can look forward to some thrilling plot twists in the upcoming episodes.
Watch the trailer below:
Korean drama lovers will have to wait until next Wednesday to know more about the onscreen couple since SBS is yet to release the promotional photos for episodes 25 and 26. In the meantime, you can watch the first 24 episodes online here, in case you missed them.