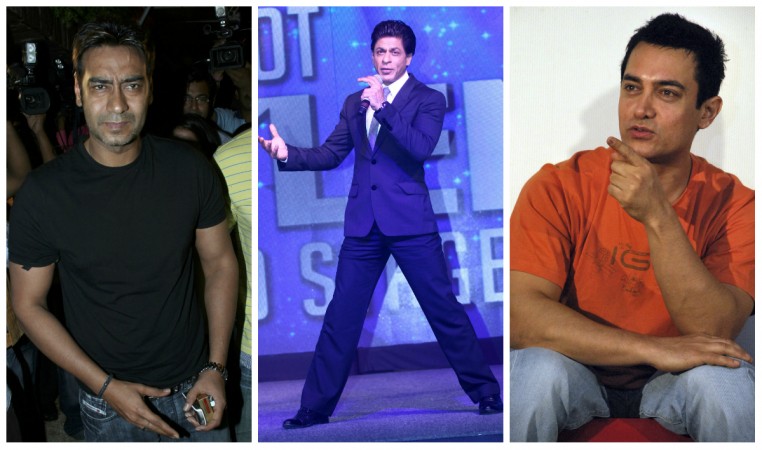 After it was reported that Aamir Khan's "P.K." trailer will be attached to Shah Rukh Khan's "Happy New Year" (HNY), the recent buzz suggests that Ajay Devgn's "Action Jackson" trailer will be released with the dance heist film.
Since "HNY" is Shah Rukh's one of the biggest films of the year, it was natural for the two actors to approach the king Khan for their trailer releases.
However, it looks like Aamir was in no mood to deal with the "HNY" star directly. Initially, it was reported that "P.K." will be attached to Shahid Kapoor's "Haider" but since the actor wanted a wider audience, he picked SRK's film.
"Aamir was very keen to have the trailer released on Diwali like he did in case of his previous films such as 'Taare Zameen Par', 'Ghajini' and '3 Idiots'. But then he did not call up Shah Rukh with the request. Instead, he has got it done by speaking to the exhibitors," Mid Day quoted an insider.
Meanwhile, Devgn has reportedly called Shah Rukh and discussed if his film's trailer can be attached with "HNY". This wasn't surprising as the two stars, thanks to Rohit Shetty, have been bonding lately. Shah Rukh even dropped by to say 'hi' to Ajay at the sets of "Singham Returns" a few months ago.
"Ajay called Shah Rukh a few days a ago with the request and he agreed. The duo had a fallout when Ajay filed a case against Yash Raj Films in 2012 but it seems that the cold war is ending now," Mid Day quoted another source.
Interestingly, "HNY" theatrical trailer was attached to "Singham Returns" since Shah Rukh and Shetty have been good friends.
The question remains, will Shah Rukh pick Ajay's "Action Jackson" and return the favour? Or will he say yes to his arch rival Aamir's "P.K."? Only time will tell.