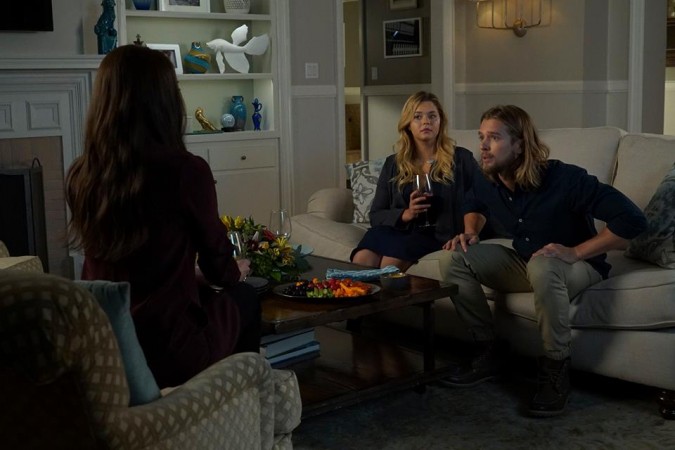 Last week's episode of Freeform's "Pretty Little Liars" introduced viewers to yet another mystery when it was revealed that Alison DiLaurentis' aunt Mary Drake gave birth to yet another child other than CeCe Drake, aka, Charlotte. Since then, the internet has been flooded with a number of theories on who this could be, with many pointing out that Aria was a likely possibility.
The episode saw Jason inviting Aria to a family dinner, and many "Pretty Little Liars" theorists believe that he wouldn't have done so if she weren't family. The episode made it seem like Aria and Jason shared a romantic relationship during the five-year jump, but it's also likely that their secret has something to do with him revealing the truth about her parentage.
According to Hypable, Aria might have been the result of Mary's relationship with Byron's brother Scott.
Early on in the series, Byron had mentioned that mental illness runs in the family and pointed out that his brother Scott Montgomery wasn't always mentally sound. If Scott was also a resident at Radley while Mary was there, then it would make perfect sense that their child would be taken in by Byron and Ella.
It remains to be seen if the mystery surrounding Mary Drake's other child will be resolved in the upcoming episode titled "Exes and OMGs." But one thing fans can expect are clues to solve the mystery.
The official synopsis for the episode reads:
Emily goes up for a position as the Rosewood High swim coach, only to learn that her ex-girlfriend Paige is also up for the job. Hanna is visited by Mrs. Grunwald after she has a vision that the PLLs are in danger. The girls track down the doctor who delivered Mary's baby in order to get answers. Ali decides to go back to work to help bring some normalcy to her life again.
"Pretty Little Liars" airs Tuesdays on Freeform. The episode can be watched online on Freeform.go.com.