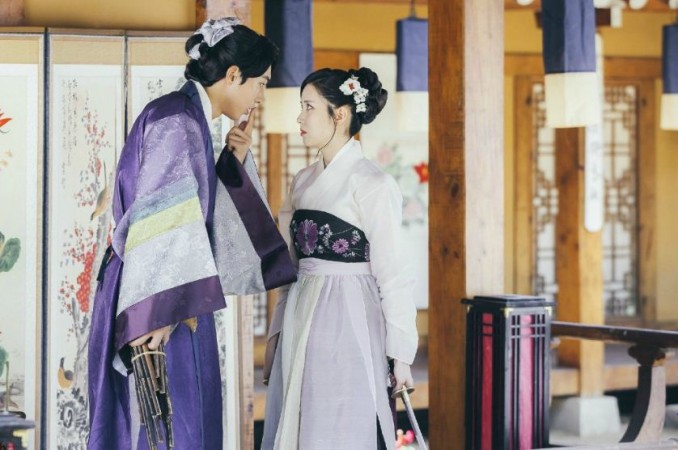 Moon Lovers: Scarlet Heart Ryeo will be back with episode 16 tonight, October 18, at 10 pm KST on SBS. Apart from revealing the fate of 10th Prince Wang Eun and his wife Park Soon-duk, the sequel will also focus on 14th Prince Wang Jung and last Princess of Later Baekje, Woo-hee.
Click here to watch the mini-series online via live stream to find out if Prince Wang So will marry court lady Hae Soo in the upcoming episode. The sequel will also be available online through SBS app.
Teasing the viewers, SBS has released a set of sneak peek photos for the next episode. While some of them feature 10th Prince and his wife, others focus on the onscreen powercouple.
In one of the teaser images, Byun Baek-hyun's character is seen trying to save his wife from a set of soldiers and the next one focuses on a wounded Soon-duk and her heart-broken husband.
Meanwhile, speculations are rife that the upcoming episode will feature the death of Seohyun's character. It suggests that Ji Soo's character will be out for blood after his brother and the newly appointed King Jeongjong kills his lover.
The official trailer features an aggressive prince who is seen saying that he will kill somebody, probably his own brother. The video even features a conversation between the third prince and his mother Dowager Empress Yoo a.k.a Queen Sinmyeongsunseong, wherein he informs her that his brother wants the throne.
So it can assumed that episode 16 of Moon Lovers: Scarlet Heart Ryeo will take viewers through a roller-coaster of events while featuring the battle field and sibling fights. Watch the trailer below: