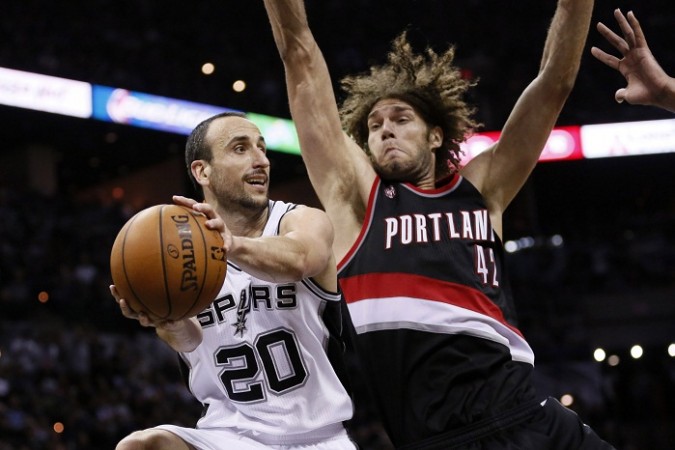 Portland Trail Blazers are on the brink of elimination, after trailing the second round Western Conference playoff series 3-0 against San Antonio Spurs.
San Antonio - averaging 116.0 points per game - has dominated the series so far and would be looking to seal the series in the fourth game itself. It is going to be a colossal task for the Trail Blazers to make a comeback, as no team has rallied back from a 3-0 deficit in the postseason.
"We'd love to close this thing out," San Antonio's Tim Duncan said. "We've had pretty decent control of it throughout and we want to finish it the right way and get some rest."
The Spurs' Tony Parker, who is averaging 26 points in the playoffs, said the first round series against Dallas Mavericks played a crucial role in rediscovering their lost form.
"Down 2-1, Dallas really made it a series. They played great basketball - everybody was playing very well on that team and they made it hard on us," Parker said. "In Game 7 you have to show up because if you don't the season's over. I think we learned from it and so far, we're playing good."
The Trail Blazers' coach Terry Stotts pointed out that the Spurs had their backs against the wall in Round 1 but after winning the series against the Mavericks in the seventh game they have became unstoppable.
"This is as well as I've seen them play all season," Stotts said. "By Game 7 against Dallas, they came out of the gate and they haven't stopped since then."
The Spurs are playing equally well on both sides of the court. They are not only scoring freely, but have also managed to guard Portland's All-Star LaMarcus Aldridge.
The Trail Blazers are also affected by the injury to Mo Williams, who has helped Damian Lillard throughout the season as Portland only managed to get six points from the bench in his absence.
"Monday is a new game, and we are confident we are capable of winning," Lillard said. "It is also about our pride. We do not want to come out here and get swept. We still believe we can win a game - we have to come out here and play like it."
Where to Watch Live
The game is scheduled for a 10:30 am ET (8:00 am IST, 2:30 pm GMT) start, with live coverage on TNT in the US and Sony Six and Sony Six HD in India. The game can be watched via live streaming option HERE. The game can be live streamed by international viewers, including India, HERE.