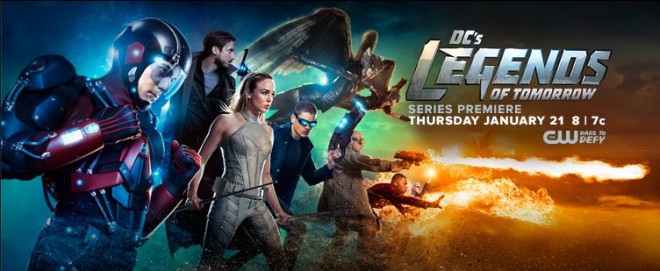 Season 1 of "Legends of Tomorrow" has had a great run, but it is ending with a couple of more episodes and so far the legends' mission does not seem anywhere close to successful. However, if fans know anything about the time-travelling, superhero series, it is that each episode would make a world of difference.
Moreover, showrunners have promised time and again that there will be resolution to the Savage (Casper Crump) problem. As of the previously aired "Leviathan," Savage is locked up in the Waverider, and so is Carter (Falk Hentschel).
From the promo for "River of Time" it looks like Savage breaks loose and kills everyone on board including Ray (Brandon Routh). Snart (Wentworth Miller) had tried to warn Rip (Arthur Darvill) about it: "As long as Savage is alive and on this ship he is dangerous."
"I have lived long enough to watch civilisations rise and fall. You might be a Time Master, but I'm the master of time," Savage tells Rip in the promo. However, we know that everything will work out in the end and the legend will save the world and along with it, Miranda (Alex Duncan) and Jonas (Kiefer O'Reilly).
The fate of these heroes, once the task completes, however, remains a mystery. After all, the Season 2 is expected to be a show in itself.
"We're determined to make every part of Season 2 feel like its own show. Episode 201 will very much be a new pilot with new good guys, new bad guys, new stakes, new dynamics, new goals. The team will basically have to find a new purpose. Once you save the world, what do you do then?" showrunner Phil Klemmer told IGN.
Also Read: 'Arrow' Season 4 episode 21 promo and synopsis released
The good news is that the legends will no longer be hunted by the Time Masters and their purpose is no longer saving the world. It will quite interesting to see these new characters and new missions on "Legends of Tomorrow" Season 2.
Characters for "Legends of Tomorrow" Season 2
Patrick J Adams of "Suits" fame is expected to play a beloved superhero from the DC canon, whose agenda is expected to launch Season 2, according to Screencrush. Many suggest that he may be playing Boost Hunter, Rip's father from the comics, but this remains to be seen.
TV Line has reported that "Legends of Tomorrow" has announced a casting call for a male in his late-20s to mid-30s. He will be a Han Solo-like character with super powers who grew up in the shadow of his grandfather who was a World War II hero.
The show is also looking to hire an African-American woman working as a member of an elite paramilitary team living in the 1940s. She blames herself for the death of a team member and is looking to avenge his/her death. It is understood that she had repressed feelings for the teammate.
Don't forget to watch Season 1 episode 14 of "Legends of Tomorrow" which will be aired at 8 p.m. (EST) on Thursday, May 5. You can also live-stream "River of Time" via CWINGO and The CW Seed.