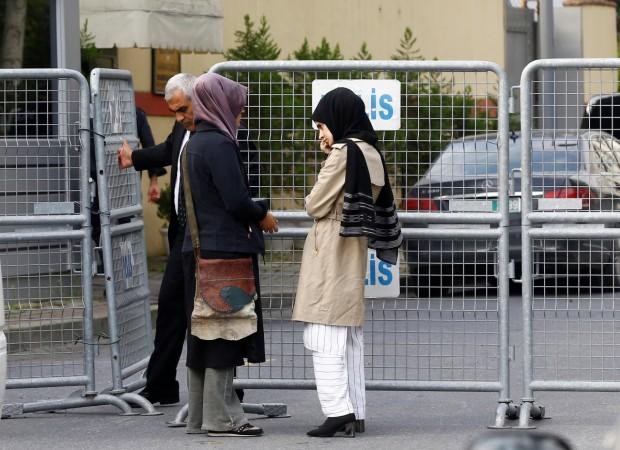 There's no clarity over the whereabouts of prominent Saudi Arabian journalist Jamal Khashoggi after he disappeared during a visit to the Saudi consulate in Istanbul on Tuesday.
The journalist-in-exile who was known to be a critic of de facto Saudi ruler Prime Mohammed bin Salman, is inside the Saudi consulate, according to Turkey. However, Saudi Arabia insists that Khashoggi had left the consulate premises.
Khashoggi's friends say he went to the consulate in good faith, needing to finish the paperwork required for getting married.
While Khashoggi's friends and well wishers say they fear for him, his current status has become a bone of contention between Saudi Arabia and Turkey, whose relationship has soured in the last year.
On Wednesday, the Turkish president's office said the government had information that "this person who is a Saudi citizen is still at the Saudi Consulate in Istanbul."
However, the Saudi government rubbished this claim on Thursday. "The consulate confirmed that it is carrying out follow-up procedures and coordination with the Turkish local authorities to uncover the circumstances of the disappearance of Jamal Khashoggi after he left the consulate building," an official statement carried by Saudi news agency SPA said.
The Washington Post, where he was a columnist, said it was "extremely concerned" about Khashoggi. The Us State department issued a statement saying it was collecting more information. However, CBS News said it wasn't clear if Secretary of State Mike Pompeo raised the matter with Saudi Prince MBS during a conversation on Wednesday. Middle East analyst Bill Law wrote an article titled "I fear for Jamal Khashoggi" in Al Jazeera.
Who is Jamal Khashoggi?
Khashoggi, 59, is one of the most reputed journalists in Saudi Arabia. He worked as foreign correspondent in countries across the Middle East and edited the kingdom's largest daily Al-Watan. He had been an adviser to the Saudi royal family, and worked as a media aide to Prince Turki al Faisal, former Saudi ambassador to the United States.
Khashoggi was also reported to have worked for Saudi and US intelligence during the Afghanistan conflict.
He left Saudi Arabia on 18 September 2017, after turning a critic of MBS. During his exile in the US he wrote columns critical of Saudi Arabian establishment.
He had hit out at MBS in an interview with Al Jazeera in March. "As we speak today, there [are] Saudi intellectuals and journalists jailed. Now, nobody will dare to speak and criticise the reforms [initiated by the crown prince]," he said, adding that "it would be much better for him to allow a breathing space for critics, for Saudi intellectuals, Saudi writers, Saudi media to debate".
Why did he go to Saudi embassy?
Khashoggi went to the consulate to get the paperwork done for his upcoming marriage with fiancé Hatice. His fiancé said he entered the consulate building after passing on his mobile phone to her. However, he didn't emerge from the building even after several hours.
"I don't know what has happened to him. I can't even guess how such a thing can happen to him ... There is no law or lawsuit against him. He is not a suspect, he has not been convicted. There is nothing against him. He is just a man whose country doesn't like his writings or his opinions," the Associated Press quoted her as saying.
Various media outlets in the region reported that Khashoggi entered the Saudi consulate at 1.30 in the afternoon. His fiancé and a friend waited outside the building until after the embassy had closed.
"After 9 pm, more than five hours after the consulate had closed, his friend and fiancée were still waiting outside the consulate in the dark for Khashoggi to come out," Hatice said.
"I think 100 percent that he is inside," Turkish journalist and Khashoggi's friend Turan Kislakci told the Post.