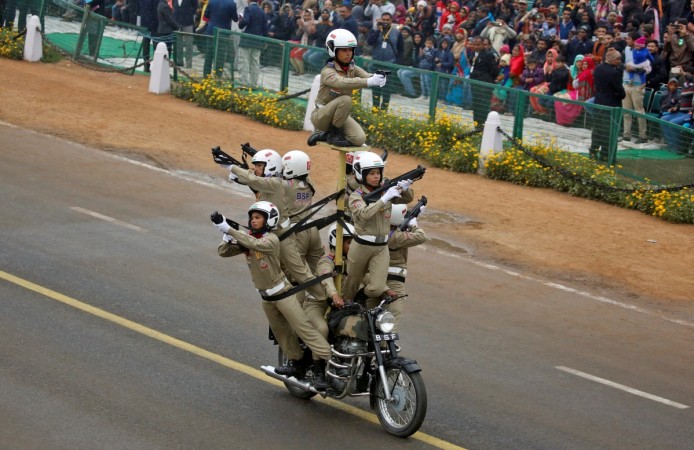 Indians celebrate Republic Day with pride every year on January 26 as it was on this day in 1950 that the constitution of the country came into force, replacing the Government of India Act (1935). The constitution was passed by the Constituent Assembly on 26 November 1949 but was adopted only on January 26 following year. To mark the occasion, India showcases its military might, technological advancement and diverse culture.
Thousands of people from across the country come to the nation's capital Delhi to witness Republic Day Parade at Rajpath. Sale of tickets to the event was opened on January 13 and will be available till January 25.
Also read: Republic Day 2018: Best Hindi patriotic songs to celebrate the occasion
Leaders of 10 Association of Southeast Asian Nations or ASEAN countries will attend India's Republic Day parade 2018.
If you want to witness Republic Day Parade 2018 with your naked eyes, you can get tickets (passes) from the following venues:
- India Tourism Development Corporation (ITDC) counters at Ashok and Janpath Hotels (only on working days)
- Delhi Tourism Development Corporation (DTDC) counters at Coffee Home, Baba Kharag Singh Marg, Connaught Place; Food and Craft Bazar at Dilli Haat, and Shri Gandhi Ashram at Chandni Chowk (only on working days)
- Parliament House Reception Office (only on weekdays)
- Government of India Tourist Office, 88 Janpath (only on weekdays)
- Red Fort (Near Police Picket), Departmental Sale Counter At North Block Roundabout , Pragati Maidan (Gate No 1 , Bhairon Road), India Gate (Near Jamnagar House), Shastri Bhawan (Near Gate No 1) and Jantar Mantar (main gate)
The tickets to the Republic Day Parade 2018 are priced at Rs 500 for reserved seats, and Rs 100, Rs 50 and Rs 20 for unreserved. One can also buy tickets for Beating Retreat Ceremony on January 28 at Rs 50 and Rs 20.
It may be noted that you need to produce Aadhaar Card, Voter Card or identity cards issued by Government of India or state governments to buy ticket and enter the Republic Day Parade 2018 venue.