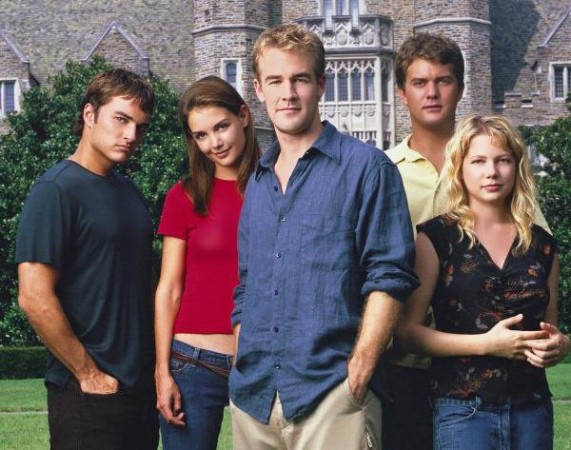 Over a decade ago, Dawson Leery and his friends said goodbyes to each other but their fans still re-live their teenage angst by re-watching those six seasons and resulting 128 episodes.
Although Dawson, Jen, Joey, Pacey, Andie, Jack, Audrey and other cast members of "Dawson's Creek" will forever remain young and restless on out laptop screens, the actors who played these characters have gone on to be part of bigger projects and have established themselves in the industry.
James Van Der Beek (Dawson Leery)
Van Der Beek, has appeared in many made-for-television films, including "Eye of the Beast", "Taken in Broad Daylight", "Mrs. Miracle", "Salem Falls" and so on. He had a memorable role as Robin's (Combie Smulders) teenage crush in "How I Met Your Mother".
He was also part of the main cast in the short-lived TV show "Don't Trust the B---- in Apartment 23", wherein he played a fictional version of himself. Van Der Beek was also the main cast in another short-lived comedy series "Friends With Better Lives", and currently stars in "CSI: Cyber", the fourth series in the "CSI" franchise.
Michelle Williams (Jen Lindley)
Following her stint in "Dawson's Creek", Michelle Williams went on to become a critically acclaimed actor, with three Academy Award nominations, for "Brokeback Mountain", "Blue Valentine", and "My Week with Marilyn". Her latest project is "Suite française", a World War II romantic-drama film, which premiered on 13 March.
Katie Holmes (Joey Potter)
Holmes, who also became unbelievably popular after "Dawson's Creek" ended, went on to star as Rachel Dawes in the 2005 film "Batman Begins". Although she made a mark as a prolific actor, paparazzi gave her most attention during her divorce from Tom Cruise. She too, had a memorable role in "How I Met Your Mother" as the "slutty pumpkin", Ted's (Josh Radner) romantic interest.
Joshua Jackson (Pacey Witter)
Although Jackson's initial shot to fame was as Pacey in "Dawson's Creek", he also became famous as Charlie Conway in "The Mighty Ducks" film series and Peter Bishop in the TV show "Fringe". He also gave commentary for "GasHole", a 2008 documentary film about the history of oil prices and the future of alternative fuels.
Although an official reunion of the gang has not been announced, Dawson and Pacey had their own one back in November 2014.
The most pleasant run-ins can happen in the most unexpected places... @VancityJax pic.twitter.com/IU1tDKumvH

— James Van Der Beek (@vanderjames) November 16, 2014
Kerr Smith (Jack McPhee)
Smith's character Jack in "Dawson's Creek" was easily one of the earliest gay characters on American television. Smith later went on to play Kyle Brody in "Charmed" and Axel Palmer in "My Bloody Valentine 3D".
Meredith Monroe (Andie McPhee)
Moroe, who played Pacey's love interest Andie, later went on to a promising part in "Criminals Minds" as Haley Hotchner. She had also made guest appearanced in prominant shows like "Californication", "The Mentalist", "Psych", "NCIS", "Hart of Dixie", "NCIS: Los Angeles" and "Drop Dead Diva".
Busy Phillips (Audrey Liddel)
After starring in the unjustifiably short-lived "Freaks and Geeks", Busy Phillips got the role in "Dawson's Creek" as Audrey, the only child of a former actress. She was part of "Love, Inc." And "ER", before booking her most famous gig yet, in "Cougar Town".
Williams, who is still close friends with Phillips, guest starred in an episode of the show as Laurie's (Phillips) foster sister. The duo has also rocked many red carpets as each other's dates on award shows. Phillips also made a cameo appearance in "Don't Trust the B---- in Apartment 23" as herself, when the fictional Van Der Beek's plans a reunion for "Dawson's Creek".