Late Sridevi is considered to be an iconic actress, but there was a time when Smita Patil and Deepti Naval were not at all impressed by her choice of films and had even slammed her for appearing as mere "sex-object" or "sex-symbol" on the screen.
Sridevi is one of the most successful yesteryear Bollywood actresses in terms of box office success. Although she had done critically acclaimed roles during her peak with films like Sadma, Chalbaaz among others, there was a time when Smita and Deepti were highly disappointed with her skin show in films.
Smita had even said that despite being a fabulous actress, Sridevi was getting "exploited" for the sake of just box office success.
During an old interview with Stardust, Smita and Deepti, who were known for their feministic stand, made strong remarks against Sridevi and some other actresses' eagerness to take up "meaningless" roles just to earn more bucks.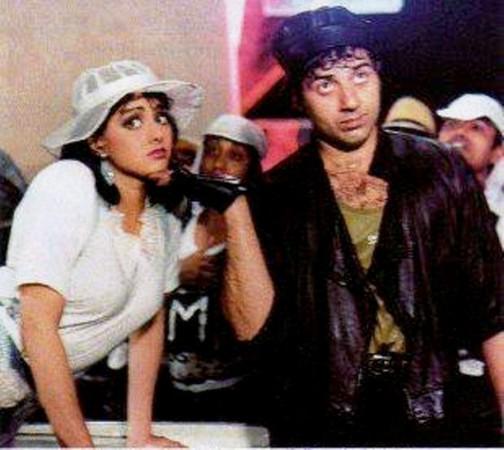 Here is what Smita had said:
Sridevi is a good friend of mine. I really would like to talk to her, ask her whether she is aware of the way she is being exploited. Maybe she is not. I cannot say I was not exploited. During 'Chakra' I was too naïve to realise the suggestion of that bathing scene. I was convinced and I defended it for years. It took me four years to realise – a thinking person like me. And these South Indian actresses have not even been brought up to think. Their surroundings don't give them a chance to grow very much mentally. They are groomed to be actresses from their childhood. They are extremely protected on the sets and otherwise. So it is only natural that they look at life through their parent's eyes. They do these meaningless scenes to make enough money and get married. And by the end of their lives they haven't even realised that they were being exploited all their life. It's a pity.
Recently, in an art film, for a delivery scene, the director asked me to show my legs. I said 'No'. There was no need. My facial expressions were enough to give the suggestion. And there are so many other films I have rejected because of this. But this problem is not so simple. Just because I'm not taking these kind of films. I won't expect the others not to. So someone else takes it. Someone who is more needy. Someone who is getting ten lakhs for showing her legs. And if Sridevi doesn't take it, someone else will. Unless, all the actresses get up and revolt against this exploitation. That will be the day and we shall wait for it even if it means another hundred years.
Unfortunately I haven't seen any of these South Indian films, but I know what stuff they are made of. These actresses may have their own reasons to do such roles, I don't know. But aisi kitni films chalengi? It won't last. Though, I understand they do the harm that is to be done. But can I tell these actresses, 'Please forget your ten lakhs and work towards a better cinema.' You can't inject commitment. Unless the awareness comes from within. Women working in these kinds of films are living in a world of their own. They don't think they are being used. They have a sense of superiority which is material. They feel great about being the sex-symbols of the industry. I pity them. I think they are in much worse condition than we are.
Deepti also did not mince her words. Here is what she had said:
There have always been two sections of films. One the more realistic, meaningful kind and one based more on fantasy and made with the box-office in mind. If not Sridevi and Jaya Prada, we had Hema Malini and Rekha. Rekha ko hi dekh lo, har film mein mujra karti aa raha hai. But even then so far it was alright. I mean to get wet in the rain and run around trees, it was okay. But the senselessness of these 'Tohfas' and 'Himmatwalas' is the last straw. These South Indian actresses could go on provoking the guy in the film left, right and centre with ludicrous, suggestive, gestures but when it comes to their virtue, they are shown to be sati savitris.
Films are a strong medium, a lot can be done through it. Sridevi is a fabulous dancer and a good actress but look what she's doing to herself. I saw 'Jaag Utha Insaan' and I was really impressed by her effortless acting and dancing. I think she should come down and do some good films. In 'Sadma' too, she was good and I said to myself, 'God, here is an actress'. But after that it's just been 'Tohfa', 'Maqsad', etc. But then for that you must have your priorities clear. I may have gone on believing that you have to be a Rekha or a Hema. I went through a phase of confusion myself and signed a few films here and there, but today I define my own terms of success. If as an actress, I am successful, I am successful. I don't care for the box-office where as these actresses do.
These South Indian actresses just want to be sex-objects and they don't mind being exploited. I don't think any of them have ever stopped to think what kind of a woman they project on the screen what kind of effect it can have on the audience. They just want to make money even if it means being exploited physically and mentally. They are not bothered about the conditions of the Indian women or what kind of lives they lead, their causes. It doesn't matter to them one bit, just because there are people who are ready to pay and see them. The 'Tohfas', "Mawalis' are great hits. It's depressing really.