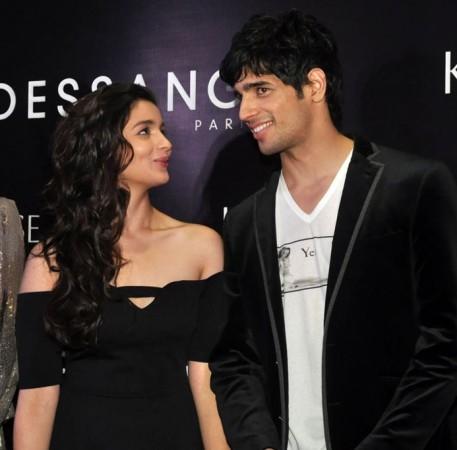 Alia Bhatt and Sidharth Malhotra's infectious off-screen chemistry has kept dating rumours afloat in the gossip circuit. At a recently concluded event, the two were seen indulging in some harmless fun and PDA. While the "Ek Villain" brooder-turned-photographer, "Highway" star posed blushingly.
The photos may have gone viral on social media, but the alleged couple has never come clean on their status. There may have been 10 different versions of how their relationship blossomed and things got rolling, the two have never admitted to being in some kind of a romantic arrangement. However, what triggered dating rumours is them attending events and parties together.
A few months ahead of the release of his rom-com - "Hasee toh Phasee", the suave actor said he wasn't dating the young diva. Heaping praises on his co-actress, Sidharth said Alia is attractive but too young for his age.
"She is an attractive girl, but she is too young for me. However, for her age, Alia is very sorted. She understands the difference between love and relationships. In fact, she was one of the girls who made me understand that you can date without falling in love," he told Deccan Chronicle adding that he has been in relationships but they were not worth talking. The actor also made it clear that him going out with someone cannot be termed as a "relationship."
In other news, the two have reportedly been roped in for Shakun Batra's next, which is essentially a family film. Although producer-director Karan Johar has given a go-ahead to Shakun's script, no official announcement has been made on the cast yet.
"Rarely does a filmmaker write a super script in 2 months....@shakunbatra's new family film just got greenlit and cast! Details coming up....," Karan posted a few days ago.
RT: Alia Bhatt & Sidharth Malhotra @aliaa08 @S1dharthM http://t.co/dWUJKyUH4Q pic.twitter.com/c0SnObYdUp

— Alia Bhatt Nouvelles (@AliaBhattsNews) February 24, 2015
"@PrincessaTash This is too C.U.T.E Loving the spontaneous Sid and Alia is so adorable Day is made ❤️ pic.twitter.com/0DQLttfBJk" Truly❤ — Rahaf Tasmin Rifa (@rahaf_rifa) February 24, 2015
@avonii @aliaa08 @S1dharthM:Only Alia's crazy company can bring out Sid's mad side.my lobsters❤.too simple &too sweet pic.twitter.com/AuFNHX99ux

— scribbledthoughts. (@likeskyfellonme) February 24, 2015
Pic: Sidharth Malhotra turns photographer for Alia Bhatt at the launch of new season of Coke Studio Season 4 pic.twitter.com/0FkEwCD1AM — Sidharth Malhotra FC (@SidMalhotraFC) February 25, 2015