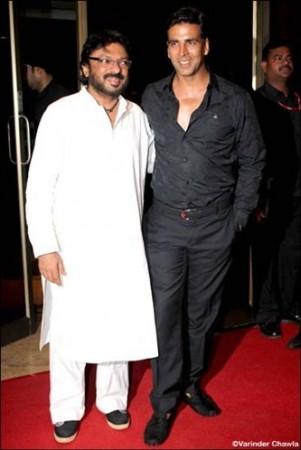 Director Sanjay Leela Bhansali is on his way to invite wrath from quite a few film industry folks.
The director firstly led to a tension after pitching his "Bajirao Mastani" against Karan Johar's "Shuddhi" with same release dates. The situation heightened after he managed to rope in Ranveer Singh and Deepka Padukone, who were also contending for Johar's film.
The "Guzaarish" filmmaker ensured more clashes further by announcing release dates of two of his productions "Mary Kom" and "Gabbar." Priyanka Chopra starring "Mary Kom" biopic has been set for 2 October release, a date which had previously been booked by Hrithik Roshan's "Bang Bang" and Saif Ali Khan's "Phantom."
For Akshay Kumar starring "Gabbar," the filmmaker set 26 January 2015 as its release date. But the Republic Day release date is said to have highly irked Kumar, whose another film has also slated for the same day release.
Kumar's untitled film with Neeraj Pandey of "Special 26" fame has set the 26 January release date long before and Bhansali's surprise announcement has clearly miffed the superstar, who came across the development only recently.
The 46-year-old is said to have had a heated conversation with "Gabbar" co-producer Shabina Khan over the subject and made known of his dissent, informed a source to Mumbai Mirror.
Kumar's disapproval with respect to the same day releases is quite valid, as it will result division among audiences, which can have a direct effect at the box office collections.
It remains to be seen whether Bhansali takes into consideration the necessary factors and shifts "Gabbar" to another convenient date making space for Kumar's untitled film.
(Edited by Anu James)