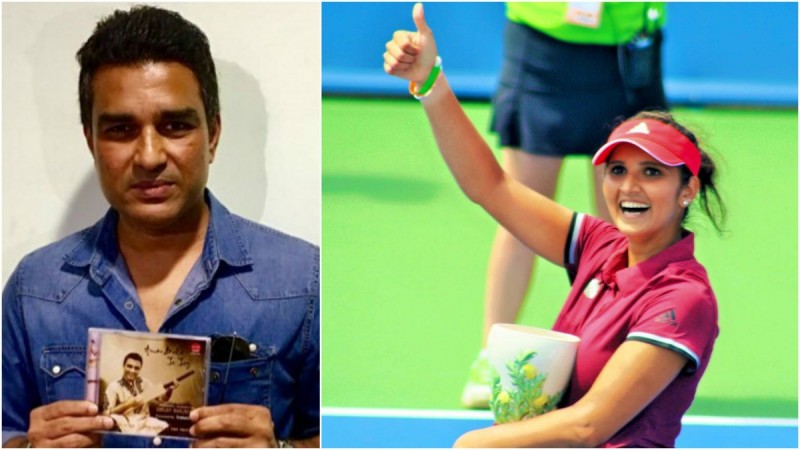 When Indian tennis player Sania Mirza shared her happiness in completing 80 consecutive weeks as the world number one player on October 18, little did she know she would have to engage in a banter on Twitter.
On Tuesday, Sania posted: "Today I complete 80 consecutive weeks as the number 1 player in d world. its been an amazing journey and just inspires me to work harder[sic]," on her Twitter handle. Soon, many of her followers started congratulating her. Even Tamil actress Trisha Krishnan and cricketer Parthiv Patel wished her on the micro-blogging site.
However, former Indian cricketer Sanjay Manjrekar started engaging in a banter with Sania by responding to the tweet as "No 1 doubles player you mean. Congrats!" trying to correct her saying she achieved the feat not as a singles player.
It has to be noted that Sania, who won 16 WTA titles, had quit playing singles in 2012. Following the tweet by Sanjay, she was quick with a befitting reply to the commentator saying: "Since I don't play singles anymore isn't that obvious/common sense? my bad, common sense is not that common after all I guess.. :) [sic]" She also didn't forget to thank him for wishing her. "Hey.. But thanks for your wishes though of course [sic]."
When he admitted his lack of knowledge by replying: "Well, you missed out an important detail for someone like me who lacks," Sania shared an article published on the website of the World Tennis Association that gives important details on her achievement. "Clearly!!! So here you go http://www.wtatennis.com/news/article/5989813/title/sania-mirza-hits-80-consecutive-weeks-at-world-no1 ... .. An article with all the 'important details' .. :) [sic]," Sania replied.
The Twitter banter, however, marked an end after Sanjay wrote "Yes, the article also says No. 1 doubles player in the world. Said what I had to, will leave all balls outside the off stump alone now [sic]."
Check out the conversation between Sania and Sanjay here:
Since I don't play singles anymore isn't that obvious/common sense?my bad,common sense is not that common after all I guess.. :) https://t.co/fXhnaQZEM7

— Sania Mirza (@MirzaSania) October 19, 2016
Yes, the article also says No. 1 doubles player in the world. Said what I had to, will leave all balls outside the off stump alone now ??? https://t.co/LP37fxYE0s

— Sanjay Manjrekar (@sanjaymanjrekar) October 19, 2016
-