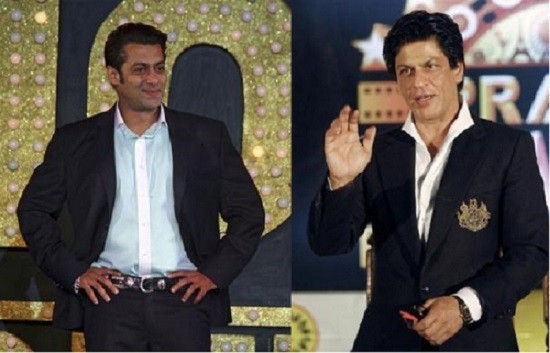 Bollywood actor Salman Khan has revealed that he along with some friends pushed Shah Rukh Khan off the bed in the middle of the night for snoring, and that was long before the duo severed their friendship.
Salman Khan, 47, the host of reality television show, Bigg Boss talked about his counterpart SRK while talking about the contestant who snores the loudest.
The "Dabangg" actor revealed on the television show that he was with Shah Rukh Khan, Sohail, Bunty Walia and Sushil in a room during the shooting of "Karan Arjun" (1995) when Shah Rukh dozed off and started snoring loudly. They found it funny initially and had a good laugh but it turned irritating after 3 pm that they had to push him off the bed. He went on to say that SRK did stop after the push and they had a good sleep.
It may be recalled that Salman and Shah Rukh were friends until they got into an ugly brawl at the former's then girlfriend Katrina Kaif's birthday bash a few years ago. They had been avoiding each other ever since and even resorted to taking digs at each other through the media.
However, the Bollywood superstars patched up with a warm hug at an Iftaar party hosted by Baba Siddiqui in July. Shah Rukh was spotted having an intimate conversation with Salman's father Salim Khan at the party before meeting his "Karan Arjun" co-star after many years.
"Finally u realize turning the page is the best feeling in the world, becos there is so much more to the book than the page u were stuck on," tweeted SRK after ending the much-talked-about rivalry with a hug. Salman also invited Shah Rukh to Bigg Boss 7, saying that he could promote his films on the show.