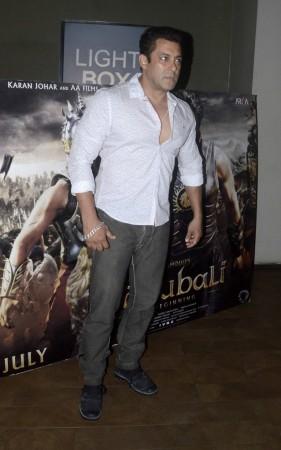 A few days ahead of the much-hyped Shahid Kapoor-Mira Rajput wedding, "Bajrangi Bhaijaan" star said he is yet to receive an invite from the young actor.
The newlyweds were blessed by industry people on Sunday, 12 July, but the superstar was nowhere to be seen.
While there was a strong buzz that he may not have been invited to the party, a Daily Bhaskar report suggests his movie date with ex-girlfriend Sangita Bijlani was why he gave it a miss.
"Yesterday night during the reception, Salman was in suburbs with ex girlfriend Sangeeta Bijlani and his actress Daisy Shah to watch the special screening of Baahubali. Salman left the theatre in the midnight 12.30 am where almost Shahid's reception got wrapped up," the web portal quoted a source as saying.
Also, Salman has been busy promoting his upcoming film relentlessly and thus may not have had the time to attend the just-married couple's big event.
However, Sonakshi Sinha and Kareena Kapoor Khan, who were decidedly thrilled about the wedding and said they would attend if invited, were missing in action.
Since none of the stars came clean about their absence from the reception, this can at best be considered as a mere speculation.