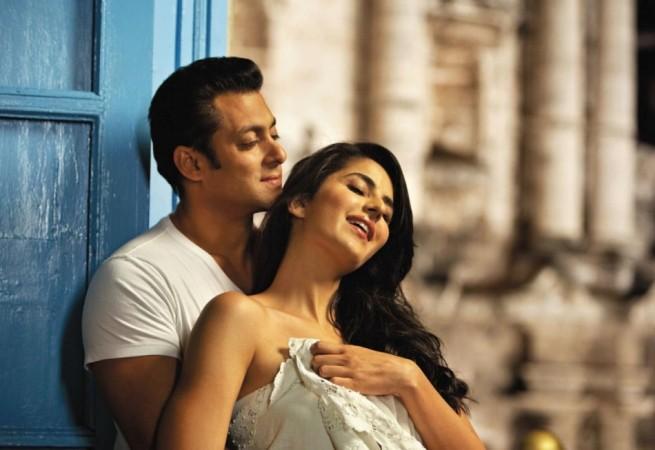 Attended by B-Town biggies, Arpita Khan's wedding ceremony turned into a breeding ground for hot gossips.
Salman Khan, who is best known for his scathing wit, didn't miss an opportunity to joke with ex-girlfriend Katrina Kaif. He not only entertained the guests with his one-liners, but delivered a fun performance on popular dance numbers.
While the superstar got busy on-stage, the DJ played Kaif's "Chikni Chameli". He reportedly asked Kaif to join him but the latter refused to oblige. However, the "Kick" star insisted and requested Karan Johar to get her to match steps with him.
"Karan please come here, and bring Katrina Kaif on stage," Bollywood Life quoted Salman as saying. Interestingly, when a flushed Kaif didn't agree to the idea of sharing the stage and dancing to the item song still, he quipped, "Ok fine, not Katrina Kaif. Katrina Kapoor, please come on stage," adding, "Mai kya karoon... I gave you a chance to become Katrina Khan, but you chose to be 'Katrina Kapoor'!"
Leaving the "Bang Bang" star embarrassed and unsettled, it is being said that the bride's brother meant all of it in jest. Considering the healthy relationship they maintain, this particular incident have for sure gone down well with the guests.
In other news, Kaif, was left red-faced during the chooda ceremony as well. "Reportedly at Arpita Khan's chooda ceremony when the kalira fell on Katrina's head (whoever's head bride drops her kalira on is destined to marry next), then too she was left blushing," stated the BL report.
Arpita tied the knot with long-time boyfriend Aayush Sharma on 18 November at Falaknuma Palace in Hyderabad. The bride's sangeet ceremony brought together Shah Rukh Khan and Salman, who have long been victims of an unintentional tiff. The two were spotted hugging each other tight and have reportedly made their peace.