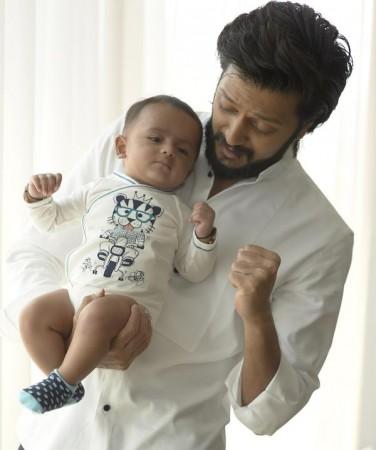 Like any other father, Riteish Deshmukh is also very possessive about his son and he made it evident in a very adorable way when a leading publication mistakenly addressed Riteish Sidhwani as the toddler's dad.
Riteish Deshmukh shared a cute photo of his son on Twitter, which was first tweeted by his wife Genelia Deshmukh on Republic Day. The picture showed Riteish and Genelia's son Riaan wearing a tri-coloured dress (symbolising the Indian flag).
Bombay Times shared the same photo of Riaan on its Twitter page, but mistakenly tagged Ritesh Sidhwani in the tweet instead of Riteish Deshmukh. Soon, Riteish Deshmukh took to Twitter and made the publication aware of the mistake in a very sweet manner. "Dear @bombaytimes he is not @ritesh_sid & @geneliad 's son – he is mineeeeeeeeee n @geneliad 's. (sic)," the actor tweeted.
The publication then deleted the first tweet and, in a fresh tweet, said, "Awwwwwww! Isn't this a cute picture of @Riteishd & @geneliad 's son #RepublicDay #SuperLike Correct now? (sic)."
Riteish and Genelia got married in February 2012. Genelia gave birth to Riaan in November 2014 and the couple has been sharing many photos of the cute toddler ever since.