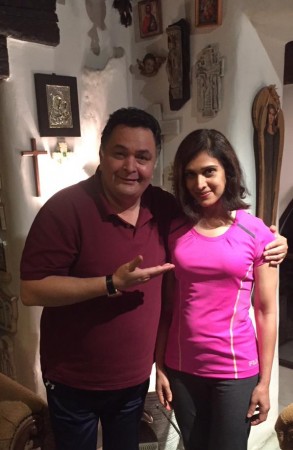 Actor Rishi Kapoor recently got a surprise visitor at his house who he couldn't recognise. The guest was his co-star from 1993 film "Damini", Meenakshi Seshadri.
The "All Is Well" actor was so amazed to meet her that he took to his Twitter handle and posted a photo of her and asked his followers to guess who she was.
According to his other post, 99% of his fans came up with the correct answer.
Any guesses who this is? I didn't recognise her for a moment. What a lovely surprise. Name in 30 mins no hints. pic.twitter.com/RbYfF1l7Wx

— rishi kapoor (@chintskap) June 30, 2015
99% got it right. Meenakshi Sheshadhari as always whenever in Mumbai pays us a visit unannounced.Looking gorgeous! pic.twitter.com/S7g6uujl0x — rishi kapoor (@chintskap) June 30, 2015
The former actress left the film industry after marriage and settled in the US with her husband and children. Last week, she was spotted at an event in Mumbai and then paid a surprise visit to her co-star Kapoor after a long time.
The duo has worked together in several films including "Vijay", "Sadhna", "Ghar Parivar", "Bade Ghar Ki Beti" and "Gharana."
She also worked with Sunny Deol in "Ghatak" and thus, her visit to India gave rise to rumours that the sequel of the film will be her comeback in Bollywood.
But Meenakshi denied the news and clarified nothing is happening on that front as of now.
"There were talks, but nothing materialised. Whatever you have heard so far, it's all just stories and not true. I am not interested in films at this point. I would like to do stage production and dance dramas," Meenakshi told IANS.
However, giving more details about the actress, Rishi Kapoor tweeted, "Damini, MS, lives happily with hubby Harish Mysore and 2 kids, girl and a boy in Dallas, U.S. Visiting relatives, can work in film if a good role."
The actress later agreed that she might return to the film industry sometime in the future.
"I didn't work in movies for this long because my kids and family are more important to me. I am thinking that the day my daughter graduates, maybe at that time I will think about something," she told IANS.