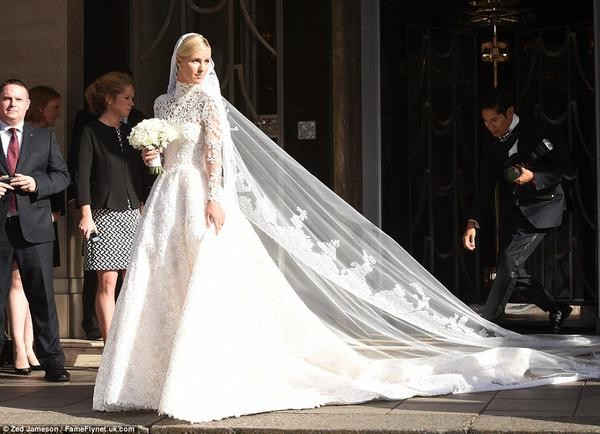 Nicky Hilton's wedding with UK-based banker James Rothschild on 10 July witnessed a freak incident when her $77,000-worth Valentino couture dress' long train got stuck under the wheel of a Bentley.
The incident happened when 31-year-old Nicky was heading towards the Kensington Palace's Orangery with her father Rick Hilton on Friday, 10 July.
Fortunately, some of the guests seem to have come to her rescue.
Watch the video below:
Shockingly, while the staff were trying to fix the gown, the bride suffered a wardrobe malfunction when she accidentally flashed her wedding night lingerie and the paparazzi present at the function were quick to capture it.
Hilton hotel heiress Nicky looked gorgeous in high neck, long sleeves, and a dramatic train gown with ornate embroidery.
Her sister, Paris Hilton, 34, who served as the bridesmaid, also looked ravishing in a sky-blue gown and glittery heels and completed her look with a diamond necklace.
Nicky Hilton and James Rothschild had got engaged on 12 August, 2014.
Check out the photos of the lavish Hilton wedding below:
Nicky Hilton just got married and wore the most incredible dress http://t.co/Z56oeSo83Q pic.twitter.com/ggrDpYEJ2Q

— BuzzFeed Celeb (@BuzzFeedCeleb) July 10, 2015
Nicky Hilton's wedding dress is STUNNING. http://t.co/AtEtER2kfJ pic.twitter.com/FwpgFShM6T — ELLE Magazine (US) (@ELLEmagazine) July 10, 2015
Paris Hilton STUNS as Maid Of Honor in her sister Nicky's wedding -- see her dress: http://t.co/GlorAz2N5K pic.twitter.com/rwHcYQH4et

— HollywoodLife (@HollywoodLife) July 10, 2015
.@NickyHilton is married! You HAVE to see her seriously stunning wedding dress: http://t.co/fcuVDhNJ7J pic.twitter.com/H2SRdHoVgh — The Knot (@theknot) July 10, 2015