Indian Prime Minister Narendra Modi met US President Barack Obama for the first time on Monday night at the White House, and while it is now widely known that Obama welcomed Modi with "Kem Cho?" a greeting in Gujarati, there were several other interesting connotations from the private dinner at the White House.
White House Dinner: Obama Welcomes Modi with 'Kem Cho'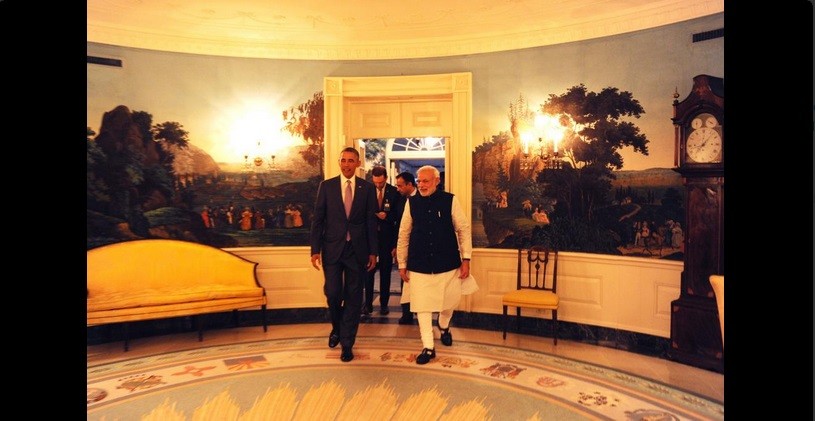 At lavish dinner, Modi only had warm water
While Obama welcomed Modi and his Indian delegation at the White House with a lavish dinner, Modi chose only to have 'warm water', given that he is on a rigorous fast on the occasion of Navratri.
However, he urged Obama and the others to continue with the dinner, the menu for which included a crisped halibut (a kind of fish) compressed avocados, goat cheese and baby bell peppers, micro basil, grapeseed oil, roti crisps and saffron basmati rice, mango crème brûlée and ginger tuille.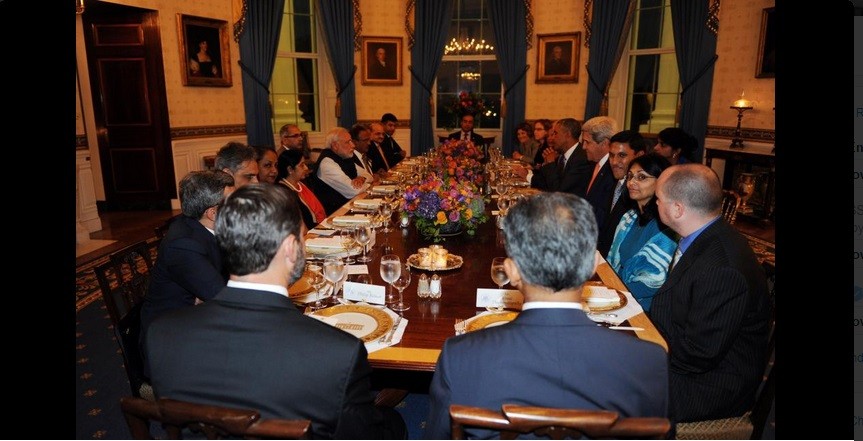 Michelle Obama Skipped Dinner
First Lady Michelle Obama was conspicuous by her absence at the Modi-Obama dinner at the White House, though the reasons for her absence are not known.
US Vice President Joe Biden, Secretary of State John Kerry and National Security Advisor Susan Rice and several others were part of the American side of the table at the dinner while Modi was accompanied by External Affairs Minister Sushma Swaraj and National Security Advisor Ajit Doval among others.
Modi-Obama to Pen Joint-Editorial:
While most heads of states bond over tea, or treaties, Modi and Obama showed a rare gesture of co-writing an editorial, that will be published in a leading American daily on Tuesday.
The editorial is expected to reflect the grand vision statement that the two nations have put forth, in a joint-statement titled 'Chalein Saath Saath, Forward Together We Go'.
India-US Vision Statement 'Chalein Saath Saath' [FULL TEXT]
The Special Gift
Modi presented a special edition of the Bhagavad Gita as interpreted by Mahatma Gandhi to Obama, known to be a big admirer of the Satyagraha proponent. Knowing that the latter was also an admirer of Martin Luther King, Modi gifted him rare clips of Martin Luther King's 1959 visit to India dug out from archives.
Discussed Similar Political Beginnings
Both leaders, known for their charismatic governance styles and for being tech-savvy, discussed similarities in their political lives.
"They both used technology in their campaigns, both were relative outsiders to capital cities when they assumed power. Both felt initial disappointments in terms of available infrastructure," Foreign Ministry spokesperson Syed Akbaruddin told reporters.
Both President @BarackObama & I share a vision for a partnership in which our nations work together for the benefit of the entire humankind.

— Narendra Modi (@narendramodi) September 30, 2014
With President @BarackObama. We had a wonderful meeting and talked about a wide range of issues. pic.twitter.com/MRDjEjujCn — Narendra Modi (@narendramodi) September 30, 2014