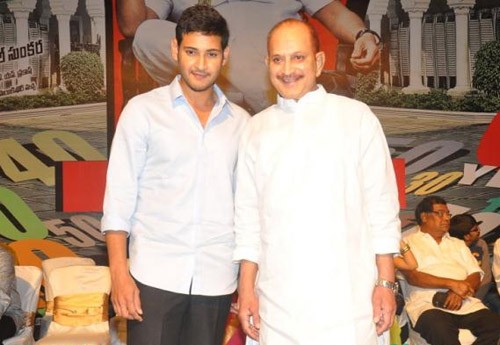 Superstar Mahesh Babu says he could not stop crying when his father Krishna lauded his performance in director Koratala Siva's second directorial venture "Srimanthudu".
Released in theatres on 7 August, "Srimanthudu" has turned out to be one of the big money spinners of 2015. It has also become one of the critically-acclaimed Telugu movies of the year. Mahesh Babu has received laurels for his performance in the action drama from all quarters.
But the appreciation by his father Krishna made him emotional. "The last one week has been very special. Everybody has been saying 'Srimanthudu' is the best film of my career. After watching the film, dad told me that he's never seen me perform like this. I just couldn't stop myself from crying," Mahesh Babu told IANS.
Photos: Krishna and his Family at Srimanthudu Special Screening
Mahesh Babu is happy with the critical success of "Srimanthudu" than its commercial gain. "It hasn't sunk in yet. I think it will take time for me to even cherish this success. More than the monetary success, I was satisfied as an actor. It's funny there's a dialogue in the film that goes, 'Let me also earn my respect'. It feels nice to have earned that," the actor said.
The superstar thanked Koratala Siva for the success of "Srimanthudu".
"Telugu audience love cinema. They won't let a good film down and they've proved this with the way they accepted 'Srimanthudu'," Mahesh Babu said.
Another reason for Mahesh Babu's excitement over "Srimanthudu" is that it is his first film that his son and daughter saw.
"My son Gautham usually doesn't watch my films. But he watched 'Srimanthudu' in the theatre. My daughter Sitara, who is too young to watch films, managed to watch it. She can sing all the songs from the film," Mahesh Babu said.
Written and directed by Koratala Siva, "Srimanthudu" revolves around the story of a billionaire's son, who adopts his native village. How he struggles in addressing the issues faced by the villagers forms the crux of the story. The film also stars Shruti Haasan, Jagapati Babu, Harish and Sampath in pivotal roles. Devi Sri Prasad has composed music for the movie.