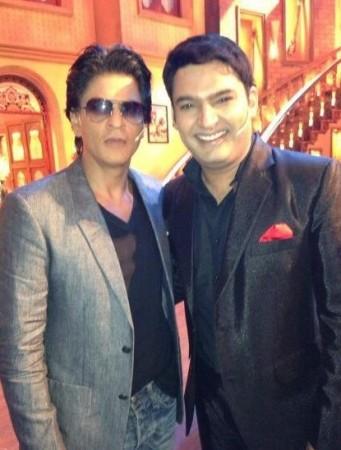 Kapil Sharma has been a busy man lately. With a film and comedy show to work on, this funnyman sure is strapped for time. But, looks like time wasn't an issue when it came to being a part of Shah Rukh Khan's new Q&A show "India Poochega – Sabse Shaana Kaun?", or was it?
According to a Bollywood Life report, the comedian turned down the invite to SRK's show stating that a certain TV channel doesn't want him to participate in competitive shows fearing overexposure. However, when the web portal contacted the channel's PR person, it was learnt that no such 'diktat' had been issued.
"It was Kapil's call to be a part of any other show and they are not aware of any such diktat from the channel," BL quoted the channel official as saying. Meanwhile, the news website also reported how SRK was miffed with the stand-up comic not attending the show and had a heated argument with the makers. This piece of information, however, wasn't true as another source revealed how Shah Rukh never interferes with the guest lists and other issues.
In other news, the Baadshah seem to be enjoying his tryst with the small screen. Although, he has been running on tight schedules with Maneesh Sharma's "Fan" nearing its end, the actor is exceedingly happy doing the Q & A format.
"Shooting for this show while working on 'Fan' has been very hectic but what has kept me going is meeting real people. This show is about common people be it the questions or the answers. It is very tough physically but mentally I am on a break as I get to talk to so many people. I am having fun," PTI quoted him as saying.
Slated to air March 2, 8pm onwards on &TV, the show is based on a unique concept.