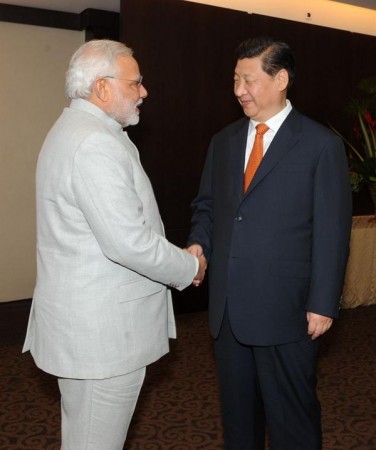 Prime Minister Narendra Modi met Chinese President Xi Jinping on his arrival in Brazil on Monday, in one of the highest diplomatic meets between the neighboring countries since Modi came to power in the recent elections.
Both leaders are in Fortaleza, Brazil to attend the BRICS Summit that begins on Tuesday, and the two discussed bilateral relations for more than an hour, a day before the multilateral summit begins. External Affairs Ministry spokesperson Syed Akbaruddin told the media that "the discussions were centered on all aspects of bilateral relations and regional and international matters".
Modi is said to have brought up the burning border issue with his Chinese counterpart, stating the need to find a solution and to maintain peace along the border. India conveyed its concerns about incursions by the Chinese Army along the border to the President, Akbaruddin said. The Indian PM also discussed trade with Jinping raising concern over the trade imbalance, which Jinping acknowledged, citing the scope for enhanced trade in the services sector from India. They also spoke of cooperation in the infrastructure sector, industrial parks and investment.
The Chinese leader also extended an invitation to Modi to attend a summit of Asia and Pacific (APEC) leaders, the Press Trust of India reported. The invitation is a very significant gesture, Akbaruddin said. "While November is a busy month with SAARC and G20 meetings, the invitation will be given serious consideration," he explained.
This was the fourth diplomatic engagement between the Modi government and China, after Chinese Foreign Minister Wang Yi's visit to India, and vice-president Hamid Ansari and Army Chief General Bikram Singh's visit to China. Jinping reportedly said that "when India and China meet, the world watches".
Apart from a visit to the APEC, Jinping also formally invited Modi to China, while confirming his visit to India in September. The Chinese invitation has been accepted and the diplomatic procedures are being worked out, Akbaruddin said.
China is also said to have given assurance to consider giving an additional route for the Mansarovar yatra, after Modi cited his own experience of undertaking the pilgrimage in difficult conditions.
Tourism was another sector that was discussed by the two leaders. Jinping said there was scope to increase the number of Chinese tourists to India. Modi, who had famously invoked Chinese traveler Hsuan-Tsang several times in the past, again referred to the ancient visits of Chinese travelers to Gujarat, according to the PTI report.
Overall, the 80-minute long meeting went off smoothly, with Akbaruddin telling the media that "Baat bhi achhi huyi mulaqat bhi achhi huyi (the talks as well as the meet went off well)".