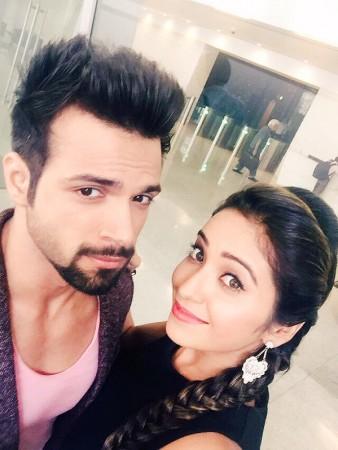 Rithvik Dhanjani and Asha Negi have been dating for quite some time now. Unlike other celeb couples, the lovebirds decided to spill intricate details related to their love story on popular show "Yeh Hai Aashiqui".
The suave actor was the first to make a pass at the actress but unfortunately the subtle hints he dropped weren't picked by Asha. Another interesting secret has to be the time when Rithvik was reportedly pleased to see a link-up rumour with her now ladylove.
Talking about their appearance on the show, Rithvik told The Times of India that he wanted to relive the special moments with his girl. "We agreed to do this episode because we want to show how it all happened and relive those moments. It's a great feeling," he said.
According to a Bollywood Life report, the actor also got smacked in the face by Asha. However, it was for a sequence that the two were shooting which required the actress to slap him hard. At first, she hesitated a little but after being instigated by Rithvik, she planted a tight across his face.
The love story might read as a cute one, but Asha had her share of insecurities too. She revealed how she would doubt his guy's intentions when she saw him around other actresses. The couple might be irrevocably in love but marriage is still a few years to go.
"Asha (Negi) and I will get married. But that will take about two years. Till then I'd like to focus on work. I make sure on a daily basis I have some special moments with Asha," TOI quoted Rithvik as saying.
In other news, the couple has been reportedly pulled on board as anchors for "Indian Idol Junior Season 2".