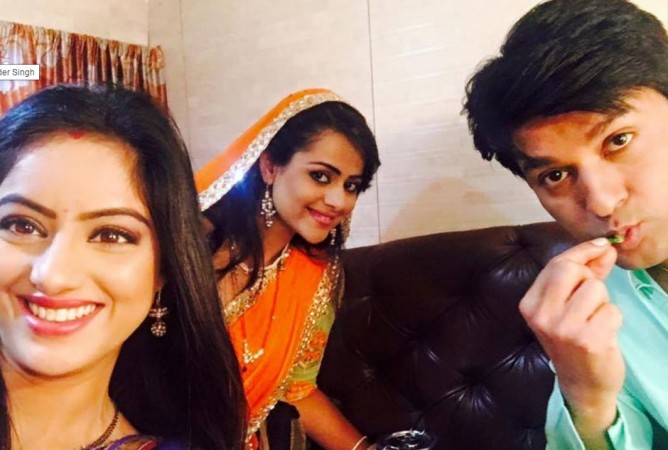 While the ongoing track of "Diya Aur Baati Hum" is keeping its viewers hooked to their television sets, recently some of the show's actors decided to have a small get together. Maninee De Mishra, Neil Bhatt, Charu Asopa and Alan Kapoor, who had been part of the IPS training track, recently had a reunion.
Although the track ended long ago, the actors including the show's lead actress Deepika Singh aka Sandhya, remained close friends. Deepika, however, couldn't make it to the party as she was apparently busy shooting for the show. The actors had a great time discussing their fun moments while shooting for the track.
"It was amazing meeting them after such a long time. We have a mad group of 6 people, with 4 of us and Deepika (Deepika Singh) and Rohit (Rohit Raj Goyal). Rohit and Deepika couldn't make it that day when we all decided to catch up. It was a last moment plan since the meeting was getting postponed from such a long time. We had lots of fun together. We were discussing all our funny moments and sequences, we shot during the cold weather in Karnal," Neil told India Forums.
Meanwhile, it has been reported that in the upcoming episodes of "Diya Aur Baati Hum," Sandhya will be seen getting pregnant once again. However, she and Sooraj (Anas Rashid) will find it uncomfortable to announce the pregnancy to Bhabo.
Bhabo, on the other hand, will be seen teasing Dhaisa that she is pregnant, which will make it further difficult for Sandhya and Sooraj to reveal the news. Both Sandhya and Sooraj will also be seen in dilemma as to who will announce the news to Bhabo.
Related
'Diya Aur Baati Hum:' Sandhya to get pregnant?
When 'Tamanna' actress Anuja Sathe aka Dharaa met Prachi Tehlan of 'Diya Aur Baati Hum' fame
'Diya Aur Baati Hum' actress Kanika Maheshwari aka Meenakshi Bhabhi wants to quit show?