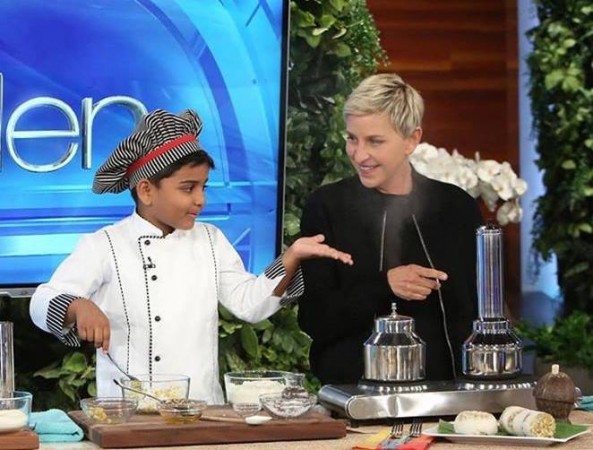 A 6-year-old boy from Kochi in Kerala has become an Internet sensation for showcasing his culinary talents after being featured on the famous Ellen DeGeneres show recently.
Nihal Raj aka Kicha has now become the youngest Indian to be part of the Ellen Show aired on NBC Channel 4. Kicha, who is followed by many people on social media, prepared the traditional Kerala breakfast Puttu , steamed rice cake, for Ellen on her show. After tasting it, the American comedian said that the dish was "very delicious."
Kicha, who visited the United States for the first time, said that he was thrilled to be a part of the show. He also showed Ellen the ingredients used to prepare puttu, which is made using ground rice layered with coconut and how to make the dish using a puttu kutti (cylindrical vessel used to prepare the dish).
"This kid is a cutie. He showed me how to cook in his puttu kutti [sic]," Ellen posted on Facebook while sharing the video of the episode.
A total of 33 videos of Kicha preparing different dishes have been uploaded on his YouTube channel KichaTube HD so far. More than 5,000 people had subscibed to the young chef's channel at the time of reporting. Check out all the cooking videos of Kicha HERE.
India's Got Talent's semi finalist Akshat Singh had also appeared on Ellen's show earlier and had exhibited his dancing skills.
Watch Ellen's episode with little chef Kicha here: