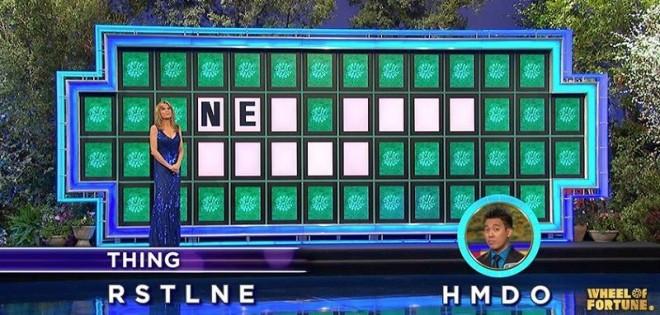 A contestant on the Popular American TV game show, 'Wheel of Fortune' has made an incredible guess, taking home $45,000 prize, that stunned both the hosts and the audience.
Player, Emil Czar De Leon, 25, was given the puzzle in the bonus round where he had to guess a 12-letter term with 'N' and 'E' along with the description 'thing.'
Well, yes, he guessed the work right. 'New baby buggy' ran off his mouth in the first attempt itself and disbelief followed. Hostess Vanna White and host Pat Sajak were perplexed. And what did the term even mean? It term for stroller, whose usage is dated.
Leon, a student of Pediatrics said, "It helped that I'm a nursing student. I'm in a paediatrics, so I could visualize the things that babies use," The New York Post reported.
"I was stumped at first. I was pretty much in a pickle. But it was obvious the first word was 'new.' The 'used letter board' helped a lot. It started with a 'B' - and 'New baby' just worked from get-go. 'Buggy' was kind of a shot in the dark," he added.
Sajak, the host of the show was dumbfounded by the answer and resorted to comedy as he mocked a patting down for any wires on Leon. Later he tweeted, "Tonight's 'Wheel of Fortune' features most amazing solve in my 30+ years on the show. No kidding."
Leon also said though he never used the word 'buggy' to mean a stroller, he reckoned that old-timers perhaps still use it. The word just looked right during the contest. "I'm very overwhelmed now. I can't turn on the internet without seeing my face!" said the euphoric winner.
'Wheel of Fortune' gathers around 11.7 million viewers and it is one of the longest-running syndicated game show in the US, going on-air since 1975.
(YouTube Courtesy: mrbigfatbrowndonkey)