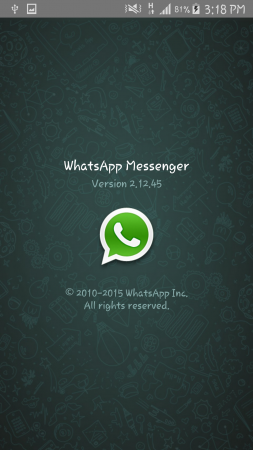 Popular messaging app WhatsApp is now getting its first impression of being owned by Facebook as it is reportedly testing the integration of the popular Like button.
The news comes from a German beta tester, Ilhan Pektas, who tweeted, "Like Button for divided images in WhatsApp (translated)," First Post reports.
Like Button bei geteilten Bildern in WhatsApp :o #cool

— Ilhan Pektas (@0xmaciln) June 30, 2015
With over 800 million users worldwide, WhatsApp is the largest cross platform instant-messaging application. By adding a Like button to the app, common understanding is that users will be able to like images. But it is still not clear how the independent messaging service will take advantage of Facebook's most popular feature.
In addition to the Like button, WhatsApp is also planning to add a new "Mark as Unread" feature to messages. This new functionality was spotted by a Spanish website ADSLZone after it obtained some internal WhatsApp documents. It is unclear how the feature will work for WhatsApp messages, as senders already get read receipts in the form of blue ticks when the recipient reads the message. One way to put the new feature to use is to reverse the read receipts when a recipient marks any message as unread.
WhatsApp is constantly updating its services to deliver a better user experience. The company recently completed the roll-out of voice-calling feature to all mobile platforms including Windows Phone. In addition, the untouched WhatsApp Web got its first significant update where users can edit profile photo, change status, delete and archive chats and exit groups.
There is no information as to when WhatsApp will start rolling out the Like and Mark as Unread features, but we can expect it to be seen first on Android and iOS platforms before anywhere else.