Tata Consultancy Services (TCS) remains bullish on India, aided by a good order pipeline, which could see increased spending by government and the private sector, leading to improved overall sentiment, said its chief executive officer N Chandrasekaran.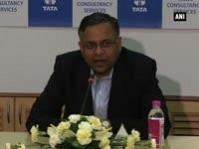 Budget 2015/16
On the upcoming Budget, Chandrasakeran said he placed improved ease of doing business in India as his primary expectation, and added that tax disputes need to be resolved by a more simplified mechanism.
Global Market
On the global economic scenario, he noted that while it was difficult to analyse and interpret every macro feature, it does help to an extent, and noted that the company has hedged its position for Q4 and to some extent for Q1 2015/16, reported LiveMint.
On India
"We have done well this year. We are still delivering the best growth in the industry and we will continue to leverage all the things that we are doing well and the great momentum we see to exit this fiscal year well, so that we are well prepared for FY16," the CEO told NDTV.
'We are extremely well placed, our byline is stay focused, stay relevant,' remarked Chandrasekaran in a call with analysts post the Q3 reporting.
TCS would want to maintain its EBIT (earnings before interest, taxes) margin between 26%-28%, recording 26.88% for the just closed quarter.
Recruitment & Layoffs
The IT company is on track to recruit about 55,000 new heads, even as it lets go of about 3,000-odd employees, about a percentage of its 3 lakh plus employees.
On the recent layoffs, Chandrasekaran said the company remained committed to its workforce, and would deal with the rumours, and get to its origin.