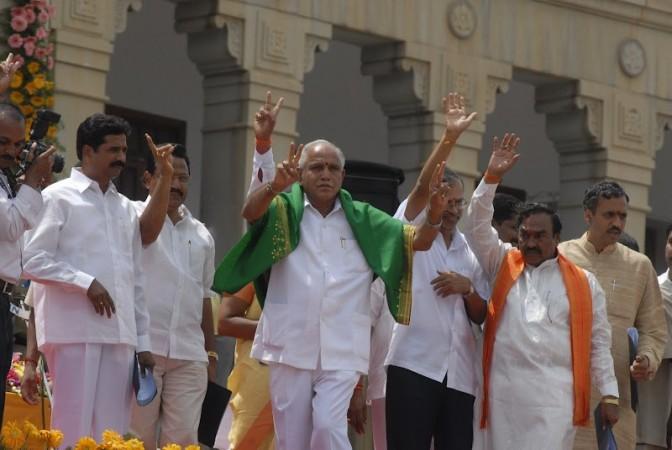 The chief ministership for D.V. Sadananda Gowda came as a windfall with a strong recommendation from his mentor B.S. Yeddyurappa. However, for CM Gowda, the mentor has turned into a tormentor in a power struggle to run the BJP government in Karnataka.
Yeddyurappa's insistent pressure on the central leadership to get him back on to the CM's chair has made the incumbent Gowda's tenure in the Chief Minister's Office shaky. Meanwhile, the BJP top brass has no option but to choose between Yeddyurappa and Sadananda Gowda -- but is it that simple a choice?
It's not as easy as it sounds. The BJP high command should have realized the importance of keeping Yeddyurapa intact after a poll-debacle in Udupi-Chikmagalur Lok Sabha by-polls, for which Yeddyurappa had refused to endorse the party.
Although one cannot totally indicate Yeddyurappa's absence in the BJP election campaign as the reason for the Udupi-Chikmagalur Lok Sabha seat defeat, but it could have had a substantial share in the latest poll-fiasco in Karnataka.
Remember that Yeddyurappa has been instrumental in bringing the first ever BJP government to the south. Though the possibility of the former working out the same magic in future elections is deemed uncertain, the BJP bosses cannot afford to earn the displeasure of a leader, who has a stronghold on the Lingayat population, a powerful community in Karnataka.
As far as Sadananda Gowda is concerned, it's a well-known fact that he is not as influential as Yeddyurappa in Karnataka. Then why is the BJP delaying the dismissal of the "unfortunate" Gowda and not reinstating the "powerful" Yeddyurappa?
Before trying to understand that let us go back to the reasons why the BJP had forced Yeddyurappa out of power. It all happened after the indictment of Yeddyurappa in a report drafted by then Lokayukta chief justice Santosh Hegde in an illegal mining scam. On the other hand, former ally and JD(S) chief HD Kumarswamy's has levelled allegations against the beleaguered Yeddyurappa in various land scams.
However, to everyone's surprise the Karnataka High Court quashed the FIR filed by Lokayukta against the embattled leader, which has cemented Yeddyurappa's position in demanding his lost chief ministership. Unfortunately, there is still a possible legal-sword hanging over Yeddyurappa's head.
The Central Empowered Committee, constituted by the Supreme Court, on the Bellary illegal mining scam has, however, not yet filed its report over whether to allow the CBI probe on the mining charges against Yeddyurappa. If it does recommend the top investigating agency's probe, then it might push the former CM into a fresh legal tangle, leaving the BJP government in an unholy mess, which it cannot afford at this juncture.