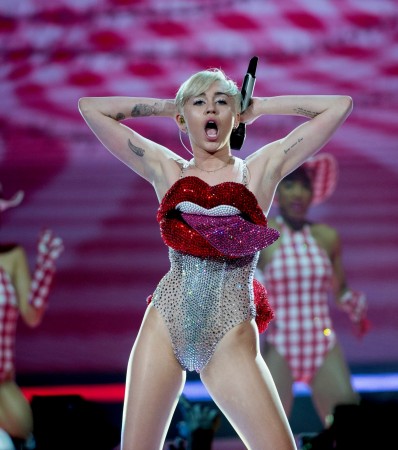 Former Disney stars Miley Cyrus and Selena Gomez are no longer friends, if Cyrus' recent antics are any indication.
At her "Bangerz" concert in Milan, Cyrus plucked a cut-out of Gomez' face from one of the audience members and sang her latest song "FU" to it before tossing it back to the audience.
While some reports claim that Cyrus was unhappy to see a fan of Gomez's in her concert, and this provoked the diss, others state that the feud might be linked to Justin Bieber.
Cyrus is believed to have had a fling with Gomez's on-again, off-again boyfriend Bieber sometime in 2013, and this is believed to have strained the former Disney stars' relationship.
Although the alleged fling took place at a time when Gomez and Bieber had broken up, Gomez was unhappy that her friend would make a move on her former boyfriend.
Gomez even discussed this issue during her recent rehab stint, Celeb Dirty Laundry reported, adding that Gomez cried about an old friend of hers named Miley sleeping with her boyfriend behind her back.
But Cyrus has always denied the affair stating that she has never been anything more than friends with the "Baby" singer.
Gomez is not the only person who has been cut off from Cyrus' life. Demi Lovato and Cyrus, too, parted ways after a feud that gained much media attention.
Speaking about why they parted ways, a source told HollywoodLife that they had different interests in life. While Lovato wanted to stay away from partying and drugs, Cyrus was all about enjoying life.
"Demi preaches her way through avoiding partying thanks to her past and Miley is all about it," the source explained. "Miley wants a friend and not a parent, and that is exactly the vibe Demi gives off. Miley thinks Demi is a literal buzz kill."
"It is the ultimate oil and water situation between them both. They are not friends because Miley does everything Demi is against and Miley thinks Demi is no fun at all. So you can imagine how that would work out when they would be together."
Cyrus also unfollowed her on Twitter, following which Lovato tweeted: "Ain't nobody got time fo dat!!! #pettybulls--- #toobusykillingit #cutethough #NEONLIGHTSTOUR."