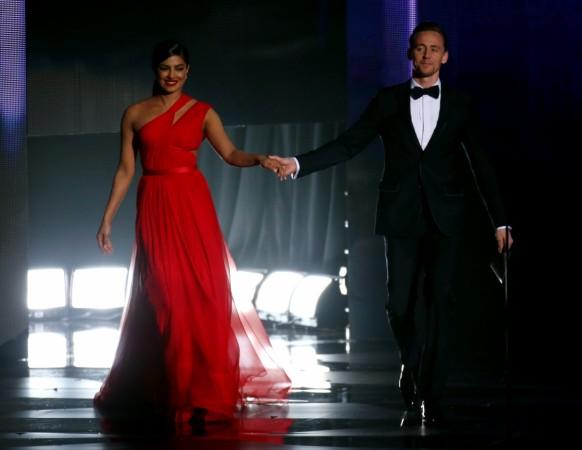 The way to Tom Hiddleston's heart seems to be through dance. The Thor actor embarked on a relationship with Taylor Swift after the duo danced together at the Met Gala after party, and on Sunday, he was spotted engaging in a mini twirl with Bollywood beauty Priyanka Chopra as they made their way to the microphone to present an award.
According to an E!News source, Chopra and Hiddleston were flirting with each other at the Emmys after-party. They were "openly flirting with each other at the Emmys after-party in between snapping selfies and mingling with guests," the source said.
"Tom had his arm around her and held her close. Afterwards, Tom and Priyanka talked closely and were holding hands at one point for a few moments," the insider said. "Priyanka fixed Tom's bow-tie and then the two kissed on both cheeks."
The source added that they exchanged phone numbers and parted ways after a "long hug" and "several kisses on the cheek." Chopra also told the actor that she would meet him later. "They left the event about a minute after each other."
Only time will tell if there's anything romantic going on between the two.
Hiddleston was till recently involved with Swift, but their relationship went bust earlier this month. They were together for three whole months before they decided to part ways. While People noted that the split was amicable, a Radar Online source revealed that Hiddleston was tired of being mocked by the media for his romance with Swift.
"Tom can't deal with being a laughing stock and has told Taylor he's done unless there's a 360-degree change on her part. It's become a total charade and Tom is sick of being treated like a glorified escort. Tom is just done with it," the source said.