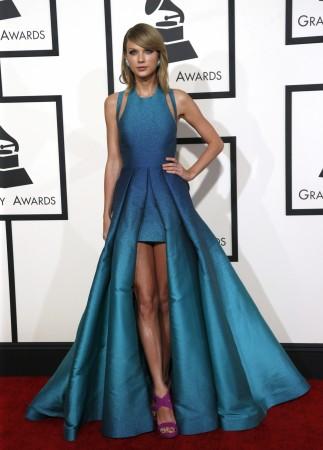 Taylor Swift has sparked romance rumours after she was reportedly caught flirting with Calvin Harris at the BRIT Awards after party last Wednesday.
According to a Heat magazine source, the duo was spotted holding hands and touching in a romantic way while on the dance floor, and they left the after party's VIP area holding hands, reported Radar Online. While it is not yet sure if there is a romantic relationship on the horizon, it should be noted that Harris is romantically involved with model Aarika Wolf.
Revealing more on their alleged flirtation, a HollywoodLife source said that Harris was hoping to take things further than just flirting.
"Calvin has always had the hots for Taylor, and this was his perfect opportunity to woo her at the BRIT Awards," a source told the publication. "At the BRITs they discussed the possibility of [making music together], as well making sure they meet up in the US in-between his regular DJ residency at Hakkasan in Las Vegas."
Swift is known for being unlucky in love, and her love failures have often become material for her songs. In the past Swift has been romantically involved with One Direction singer Harry Styles, Conor Kennedy, Jake Gyllenhaal and John Mayer among others.
Recently, she spoke about her insecurities with respect to her love life saying she fears being single when she hits 30.
"I'll probably be single," Swift told The Telegraph, adding she doesn't see herself ever being happy with her love life. "I'll probably still be single, let's be honest. No one's going to sign up for this and everything that goes with it. Like, 'Hi, nice to meet you, want a date? Do you love camera flashes? I hope you do!' I don't know what's going to happen if I'm ever content in a relationship -- no idea how that's going to work. I don't even know if that's possible with the life I have."
Meanwhile, Lady Gaga doled out some relationship advice to the 25-year-old singer and asked Swift to be patient for her prince charming.
"Is it just me or is Lady Gaga, like, fully LIVING right now?!? #goals," Swift tweeted, to which Gaga replied:"@taylorswift13 wow you're a sweetheart! Life is friends, family, and love! We all see that in you, your prince charming will come!"