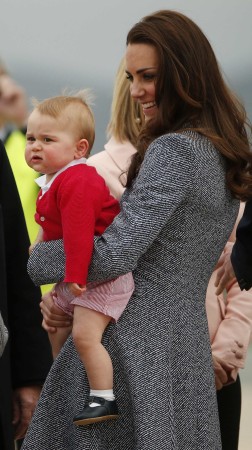 With Kate Middleton allegedly set to give birth to a baby girl, speculations are already heating up on what Prince William and his wife would name their second child.
Reportedly, the couple is planning the baby after William's mother Diana, and this decision has not gone down well with either Queen Elizabeth or Camilla. But William wanted to keep the memory of his mother alive through his daughter, according to Life& Style.
Other names that are popular include Victoria, Alexandra, Elizabeth and Mary for a girl child, and if it is a boy, then James, Thomas and Charles are the top contenders, reported the Daily Mail.
"If it's a girl, the name would have to be Diana, wouldn't it?" Diana's close friend, Marie Sutton, told Life & Style magazine, according to HollywoodLife.
The Life & Style report also claims that Middleton is convinced it's a girl this time because "she feels different this time around."
Prince William and Middleton have already set up the nursery for the child, decorating it with a state-of-the-art crib and beautiful dresses, the report claims.
Although the royal couple is duty-bound to produce a "spare" heir, Middleton's close relationship with sister Pippa has reportedly convinced her that Prince George should have a sibling who is only a couple of years apart.
Middleton also believes that having a sibling will be good for George's character.
"Kate has always wanted a daughter, and she's talked about it so much that William did too," an insider told OK! Magazine. "Kate's upbringing with Pippa was idyllic and she always wanted to have girls of her own to carry on the legacy of strong, happy women. Plus, she thinks George having sisters will be tremendously good for his character."
Middleton's decision to having a second child intensified after she saw that Prince George enjoyed playing with other children, and that he had no qualms about sharing his toys, OK! Magazine reported.
Prince George just celebrated his first birthday on July 22 with a grand bash at Kensington Palace. However, Prince Charles and his wife Camilla were notably absent from the birthday bash, as they were in Scotland on royal duty. Prince George's great-grandfather, Prince Philip, too, couldn't make it to the celebration due to prior commitments.
Other guests who attended the celebration included Prince Harry, Queen Elizabeth, William's cousin Zara Phillips and her husband, Mike Tindall, Middleton's siblings Pippa and James along with their parents Carole and Michael Middleton.