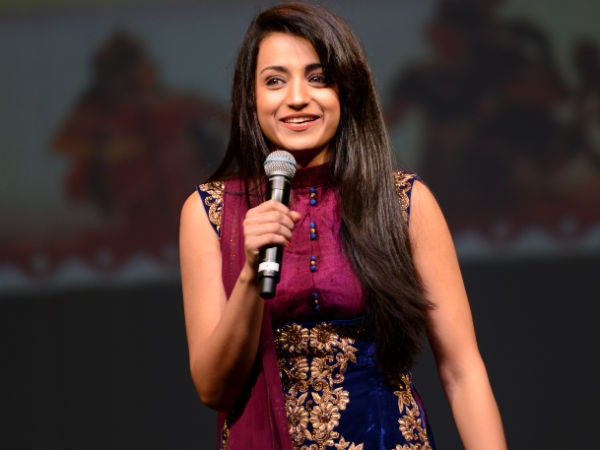 Trisha Krishnan had a chat session on Sunday, October 23, with her fans on Twitter. She has opened up on a wide range of topics with her followers and tried her best to respond to most of their queries.
The actress, who is warming up for the release of her next film Kodi, responded to most of the queries in just one word. The common questions that she came across were about her favourite food, actors, etc., apart from revealing many interesting facts about herself. Apparently, she refused to respond to controversial topics. Find below the excerpts from her Twitter interaction:
Fan: Just one word about you?
Trisha: Unpredictable.
Fan: How was your experience in Kodi?
Trisha: Challenging.
Fan: One thing that irks you so much on Twitter (only if u can tell)?
Trisha: Cowards who feel free to post rubbish on my timeline.
Fan: Your fitness mantra.
Trisha: Portion control with food.
Fan: One word about Pawan Kalyan.
Trisha: Unique.
Fan: Ice creams or chocolates?
Trisha: Ice cream.
Fan: A movie that you liked a lot recently?
Trisha: Sultan.
Fan: What fav holiday spot comes to your mind whenever u r free to go?
Trisha: New York always.
Fan: What do you feel about Remo @Siva_Kartikeyan lady look ?
Trisha: Hilarious. Great effort.
Fan: What question do you hate to answer?
Trisha: When will u get married?
Fan: Which was your favourite subject in school?
Trisha: Maths and English.
Fan: Fav food item
Trisha: Proper Iyer sappadu.
Fan: Share your experience working with @urstrulyMahesh
Trisha: Such a professional and sweet superstar.
Fan: From #MissChennai to being Bhuvana, Dhanalakshmi, Jessi and now Mohini... how has the 17 yrs been??
Trisha: Never a dull moment. Lots of highs, few lows, no regrets.
Fan: What u do when you'r so sad?
Trisha: Stay away from everyone !!
Fan: Share your experience working with Prabhas, as it's his birthday today
Trisha: He is truly the industry's darling.
Fan: Your fashion destination?
Trisha: Paris.
Fan: How you handle the controversial topics? @trishtrashers
Trisha: Amused.
Fan: Can you cook?
Trisha: I can survive.
Fan: Your favourite comedian
Trisha: Vivek.
Fan: What is ur fav car?
Trisha: BMW.
Fan: How does it feel to be the most desirable woman on the earth?
Trisha: Am I ? Really ? Lol.
Fan: Who will be next Trisha you think???
Trisha: I'm hoping no one ;)
Fan: Ur fav actress
Trisha: Priyanka Chopra.
Fan: what is the worst part about being an actor?
Trisha: Nothing honestly.
Fan: Do u see the trailer of #AYMTrailer ?
Trisha: Loved it.
Fan: Are you living your dream or living a dream..?
Trisha: Living half my dream for sure.
Fan: What's ur fav Tv Series ??
Trisha: Changes every season coz i pretty much watch them all.
Fan: Who's your fav Actor in the Tamil industry?!
Trisha: I choose not to answer this bcoz i don't want their fans fighting on my timeline.
Fan: Which is your favourite look from all your movies?
Trisha: Hemanika.
Fan: fav bollywood actor???
Trisha: Salman khan.
Fan: what do you like about @PawanKalyan sir :)
Trisha: He lives life on his own terms n is soo unaffected with his stardom.
Fan: things you love the most?
Trisha: Deep sea diving.
Fan: Do u watch cartoons.. if so which is ur fav cartoon.
Trisha: Tom n jerry.
Fan: Do you have advice for anyone wanting to start dance or act?
Trisha: Go for it but don't put all ur eggs in one basket.
Fan: Ever had a crush on your co-star?
Trisha: Of course.
Fan: About Vijay?
Trisha: Professional, extremely, gracious, generous.
Fan: Type of music you like the most?
Trisha: Western classical, hip hop and all of ARR's.
Fan: Your favourite Hollywood hero?
Trisha: Leonardo di Caprio.
Fan: Your thoughts about Ajith Kumar and Shalini Ajith?
Trisha: Perfectly in sync with each other.