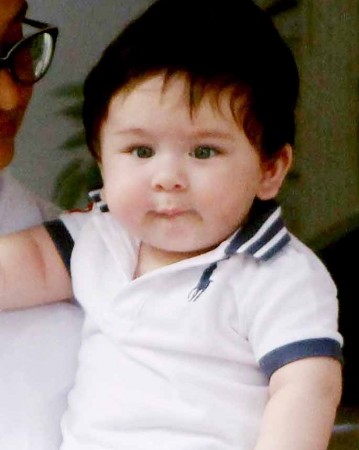 Taimur Ali Khan is B-Town's favourite kid and every time he steps out, he takes away the spotlight from parents Kareena Kapoor and Saif Ali Khan. But who clicks his inside pictures when he is home?
Well, it's Kunal Kemmu. Yes, the Golmaal actor just revealed that he is the one who clicks Taimur's pictures.
In an interview with a leading daily, Kunal said, "You know, it's funny, all the pictures of Taimur that are doing the rounds were clicked by me."
Kunal also said that Taimur had been over to meet his daughter Inaaya, but he didn't give any particular reaction. "We didn't expect either as he is a baby too. He either laughs or cries after meeting people, but he enjoys whenever I pick him up and play with him."
Kunal, who recently became a father, further talked about his baby girl Inaaya and about fatherhood. He said, "It was me who named her. Both me and Soha had our list of baby names and we decided to go ahead with Inaaya Naumi Kemmu. We named here Inaaya Naumi as she was born on 'Naumi'.
He added: "She is just 11 days old and is sleeping for most part of the day. She is a good kid and is very quiet. She does not cry at all. Touchwood. Her eyes are shut all the time, but she looks damn adorable when she opens her eyes. At first, I thought she looked like an alien, but then that's how most of the babies look."
Karan Johar revealed something really interesting on Neha Dhupia's show #NoFilterNeha. He said: "Kareena and I have decided, it's Taimur's birthday party. He is two months older than them. Taimur was born in December. So his birthday party is where Yash and Roohi will make their debut appearance. Watch out Instagram! Because these three cuties are going to break the internet. I can't wait for that photograph."
Now that will be a sight to wait for!