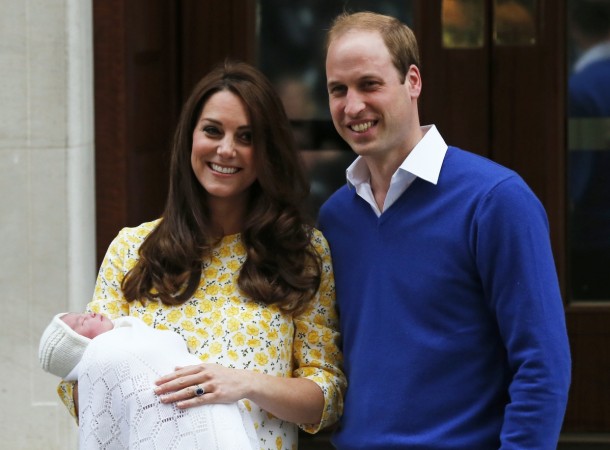 The Royal family continues to gush about their princess Charlotte who turned two weeks old. And Uncle Prince Harry has some special advice for the youngest royal.
Prince Harry is yet to meet his niece as he is on an official tour. But he has been kept updated from time-to-time. "[William] sent me two photos: one before everybody else, which was nice, and then another one with her with George back home," Harry said.
However, he has some advice for Princess Charlotte and her brother Prince George.
"I would definitely encourage George, and Charlotte if she wants to, to have some sort of involvement in the Armed Forces, guaranteed," he told Sunday Mirror.
"And I know that William and Catherine would probably echo that as well, depending on the situation for them in those years to come," he added.
"It's done no harm, just good, for me, and I know it's the same for William. It's hard to say anything else on that because, as a parent, it's your choice," he said.
Well, we are not really sure if parents Kate Middleton and Prince Williams will actually be convinced with this advice, but at this moment, they definitely must be feeling very proud.
Their little bundle of joy has won the hearts of not only a million well-wishers worldwide, but within the royal family as well.
Princess Charlotte has got many in the royal family, including Nanny Maria, Granny Elizabeth, Prince Charles and Michael Middleton among others, raving about her.
It was reported by People that the handmade baby bonnet Charlotte wore for her first appearance was bought from a boutique in Spain.
We guess, the first fan in line is undoubtedly the 43-year-old Spanish nanny Maria Teresa Turrion Borrallo. Maria, who is already looking after 21-month-old Prince George, will help Middleton with Princess Charlotte as well.
Then, it's obviously Her Majesty Queen Elizabeth, who, while speaking to well- wishers at a garden party at Buckingham Palace on Tuesday, gushed about the newborn princess, saying, "We love to have another girl."
And the proud grandfather Prince Charles added to what the Queen said. "I was hoping for a girl to look after me when I am very old."
Others on the list are Middleton's parents Carole and Michael Middleton and her younger siblings — James and Pippa Middleton.
In fact, Pippa was one of the first to visit Kensington Palace after the birth of Charlotte.
It looks like Princess Charlotte already knows how to get a royal treatment.