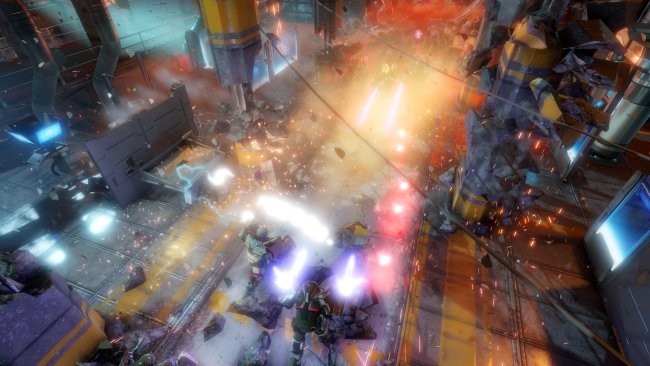 Not many people are aware that Alienation is an upcoming PS4 exclusive from Housemarque, the one that brought us PS4's hit launch title Resogun. But as Resogun is just a thing of the past now, all hands are at work to make Alienation one of the better PS4 exclusives of all time.
Alienation is a new online game for PS4 that promises to evolve notions such as in-game interactivity and connectivity between players.
In a recent interview with Gamereactor, Sony XDev Studio's James Hawkins revealed a bit more about Alienation's story. He also talked about the type of online environment players can expect from the game, offering an insight into a title that still is a mystery to most of us.
"If you look at it in comparison to Resogun or Dead Nation for example, you kind of have ships in Resogun and they get upgrades as you play through, always the same upgrades, and online is always co-op with two players, in both games, indeed, in every Housemarque game we've done so far. So here in Alienation we have four-player co-op for the first time, and we also have some PvP modes that we're working on," Hawkins said.
On being asked about the overall structure of the new game, Hawkins added: "There is a story flow that you go through, but the whole game is online... So people can drop in and drop out of games, you can call for help from other players, and at any time people can come in and help you out."
"I think the key things with the tactics that we're doing, again playing to the depth of the game, is that when we look at all of the powers and the characters, we're really looking for abilities that can create new ways for people to play together," he further added.
Alienation is a PlayStation 4 exclusive and is expected to land on the console at some point this year. Stay tuned for more updates!