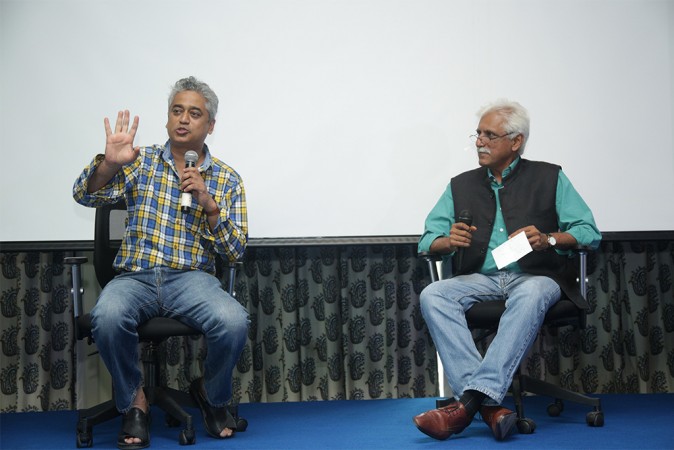 Prominent journalists spoke about various issues at the Vox Media Festival. The three-day conference, titled 'Talk Journalism', concluded its final day in Jaipur on Sunday.
Marking its third conference since inception, this year also saw many prominent names such as Anant Goenka, executive director of The Express Group; former Union minister Arun Shourie; Shekhar Gupta, founder of The Print; Paranjoy Guha Thakurta, editor of EPW; Anant Nath, editor of The Caravan; and NDTV's Ravish Kumar, among others who graced the conference.
Similarly, the list of media organisations that attended was also vast and included Scroll.in, The Quint, Bloomberg, Daily O, Quartz, Catch News, News Minute and many more.
With close to over 30 sessions and various other workshops, the conference addressed the rapidly changing media landscape and newly emerging trends. Topics ranged from those that interest media practitioners such as newsrooms adapting to new technology, safety of journalists, press freedom from censorship, paid news, native advertising and adblockers to topics of general interest to the public such as cricket and Kashmir. Here are the highlights of some interesting sessions.
"Half an hour of watching international news and I feel like I've learned something. It makes you think. Half an hour of primetime television in India gives you migraine. It makes you think, what are you learning? Do we come out more informed, more equipped about the issue? No." Sachin Pilot, Rajasthan Congress chief, in conversation with Business Standard's Mihir Sharma, was quoted saying by CatchNews in a session titled 'Shooting the Messenger: Are Politicians and the Media Fair to Each Other?'
Pilot, during the talk, also took a swipe at the opposition when questioned about Doordarshan.
"Sadly, if you watch Doordarshan's coverage for a few hours it would become clear which party is in power. I'm not blaming our opposition - this is true of all parties - whichever one is in power. State-owned broadcast channels should set the standard for others, which isn't happening currently," said Pilot on Day 1 of the conference.
On day 2, Gerard Ryle, the head of International Consortium of Investigative Journalists (ICIJ), in conversation with Indian express journalists Ritu Sarin and Anant Goenka, discussed the relevance and importance history's biggest data leak -- the Panama Papers.
The question posed to Ryle and Sarin inquired why even after monumental amount of muck was raked against politicians and celebrities around the world accusing them of tax fraud enough heads did not roll.
Ryle explained that investigative committees have been formed all around the world where the papers had established tax evasion. However, Ryle expressed disappointment over the fact these investigations play out behind closed doors.
Sarin also reminded audiences that Prime Minister Narendra Modi, who took cognizance of the Express' revelations, ordered the setting up of a committee. In less than 3 months, the Indian government has already issued summons to multiple overseas firms in connections with the leaks. There is progress, the two contended in the session titled 'The future of Panama Papers Investigation', even if its painfully slow.
But arguably the most interesting session took place as the inaugural session of Day 1 itself. Senior AFP international correspondent Prakash Chandra Hota, freelance journalist Om Saini, journalism educator Vineet Kumar and Arijit Sen from Amnesty International came together to discuss press safety in a talk titled 'Are we a safe country for Journalists?'
While Saini reminded audiences of the threat from government, Kumar spoke of the dangers of twitter trolls.
"I went for a talk on TV once and when I got back, my Twitter was filled with death threats. Why? Because someone with 'I support Burhan Wani' on his profile had retweeted me… It isn't just about the immediate threat you face in a conflict area anymore," said Kumar.
Hota, however, stole the limelight with his stories about reporting from the frontline. He described the dangers he experienced in the field, reporting from conflict zones, something that young independent journalists writing on social media cannot imagine.
"I've been in such dangerous situations that I couldn't tell my wife. There are some things she still doesn't know… I've been in a situation where the choice was between taking a bullet or getting the story. I chose the bullet because, if I didn't, I'd die a non-entity anyway," Said Hota.