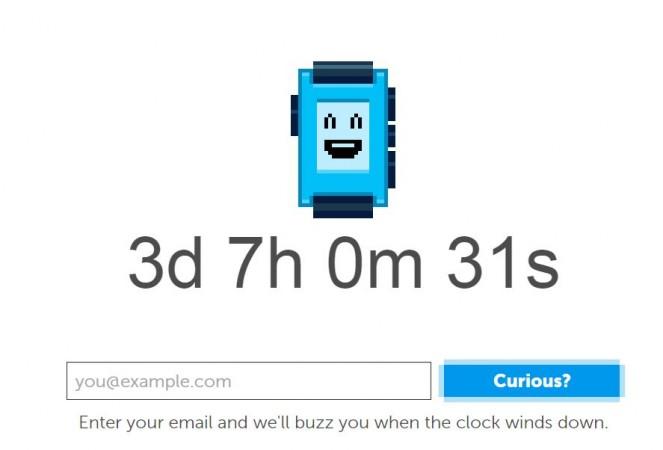 Pebble is just a few days away from announcing something (or things) special, but tech enthusiasts have not been able to gauge what the company is planning to reveal on Tuesday.
Pebble Technology Corporation has put up a pixelated countdown watch on its website for a new announcement. It is being speculated that the company will reveal a major update to the smartwatch's hardware and software. But, there might be more to it than meets the eye.
While Tuesday announcement is just a little more than three days away, we are still not sure about Pebble's plans. And the company is indeed doing a good job in keeping the announcements as confidential as possible for the time being.
The smartwatch maker is going to make the announcement at 10 am on 24 February, but there is absolutely no detail on the website about what exactly it will be introducing.
Rumour has it that the company will most likely showcase an updated smartwatch that will have a slightly wider, e-paper-like display in colour, with an improved backlight. It will also be encased in an overall thinner design, although it may not be touch-enabled like the Apple Watch, a report in 9to5Mac stated.
Pebble's chief Eric Migicovsky, in a recent interview with The Verge, sid apps will continue to exist on its smartwatch but it will no longer be the main focus. "It doesn't look like what we have today, and it doesn't look like what's on your smartphone," Migicovsky told the tech blog.
Further, it has been speculated that the new updates in contention include battery life modifications in line with the current models, alongside addition of a microphone and Nuance- voice recognition software.
The updated Pebble smartwatch will also reportedly have the charging and data transfer pins at the bottom, which now sports a plastic body with aluminium edges. It is also said that the new version will have an updated Pebble watch OS, which will feature a timeline view that records a list of recent notifications.
Also, the UI offers many new animations. And although third-party applications will not go away, the operating system will aim at bringing alerts and notifications for future calendar events. It is also speculated that the new Pebble watch will not be sold via the official website initially, but through Kickstarter - a funding platform for such projects.
The Pebble watch is expected to run on a faster Cortex M4 processor with a 6-axis gyroscope. The price of the updated watch will be close to the price of the Pebble Steel model, which sells at $199. Stay tuned for more updates!