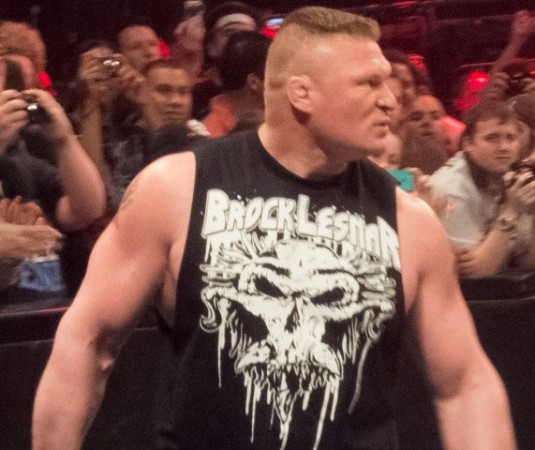 Brock Lesnar recorded a dominating win over Mark Hunt in his one-off match at UFC 200 on Saturday in Las Vegas. The performance of the combat athlete, currently signed with pro wrestling promotion WWE, has made him a serious contender for the UFC heavyweight title, worn around the waist of Stipe Miocic.
There have been cheers for him from all quarters following a one-sided performance that saw him win the fight via unanimous decision over Hunt. Many also mentioned that Lesnar always had the upper hand when the fight went to the ground and that's exactly the way it turned out.
Once the fighters were on the ground, the former UFC heavyweight champion used his technical wrestling acumen to continuously take on the mount position.
Standup was where the action could have taken place the most in the fight, but Lesnar was smart to stay out of the striking reach of Hunt. He then used his takedown skills in the best way possible, gassing Hunt completely out over the three rounds.
Now with Lesnar having won the fight, it remains to be seen whether he indeed continues his stay with the UFC. Whatever the situation be now, one thing is certain -- it's going to be really interesting. Lesnar has already been booked to take on Randy Orton in WWE Summerslam 2016, scheduled for August 21. However, whatever transpires following that will be the one to watch out for.
"Let's get one thing clear: Brock Lesnar does what Brock Lesnar wants to do," Lesnar said after the fight. "I believe that my future is already laid out for the next month. I'm doing SummerSlam against Randy Orton, and once the dust settles, I'm not sure what I'm going to do. I had one hell of a time tonight [at UFC 200] and I enjoyed myself. We'll see what happens.
"I believe any man can do whatever he wants if he puts his mind to it," Lesnar added. "I've been out of this game for five years and I stepped back into the cage after training for six weeks and I put a good beating on Mark Hunt. I think anything is possible."
Lesnar, who turns 39 on July 12, had revealed that he was the one who made the call to UFC President Dana White, admitting his keenness on making a return at UFC 200. He also added that WWE Chairman Vince McMahon knows very well that a happy Lesnar was easy to work with and not an unhappy one -- clearly mentioning that he was not interested in taking a negative answer from the WWE boss ahead of his UFC fight.
Pro wrestling legend and famed WWE commentator Jim Ross feels that McMahon may have to make an exception of sorts with regard to Lesnar and he has to realise that it is in the best interests of both the UFC and the WWE to allow him to do what he is keen on doing. This, owing to the increasing popularity of Lesnar in both the MMA world and the pro wrestling world.
"I believe that Vince McMahon is the smartest guy I know," Ross was quoted as saying by ESPN. "He's a promoter. He's [legendary American face] PT Barnum on steroids, no pun intended. I think that McMahon knows the bigger Lesnar gets in UFC, the more he means for WWE. Both promotions can take advantage of arguably the greatest box-office attraction in UFC history.
"Brock is a freak of nature, and he's a very competitive guy," Ross, 64, added. "I remember back in the day when someone would say they had the fastest 40 [-yard dash] in the WWE, he would stand up at 300 pounds and say you can't outrun me. There's money in him, and Dana White and the [UFC owners] Fertittas know they can't let Brock Lesnar slip away this time. They need to bring him back.
"He can do both. He can do part-time WWE and part-time UFC and make everyone involved a lot of money. He's a once-in-a-lifetime athlete. He's like [NBA star] LeBron James or [NFL star] Peyton Manning. He's everything you'd want in this genre of real fighting in the UFC and the showbiz of the WWE. That's an amazing combination," Ross explained.